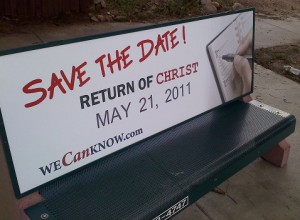 As the last week of the world as we know it gets underway, Friend of the Hall and Townsman Andy Shernoff, whose band The Dictators' "California Sun" graced our recent spring sun celebration episode of Saturday Night Shut-In, contacted The Back Office to inform us of pending return of the "Zombie Jew," our Lord and Savior—and now light's out closer—Jesus. Are you ready to rapture? Andy Shernoff's urgent message to humanity follows:
[audio:https://www.rocktownhall.com/blogs/wp-content/uploads/2011/05/01-Are-You-Ready-To-Rapture_.mp3|titles=Andy Shernoff, "Are You Ready To Rapture"]
You can catch Andy's last scheduled performances ever, beginning Thursday, May 19, at the Joey Ramone Birthday Bash at Irving Plaza through a Stooges' Fun House tribute show on June 25.
If Andy's calculations are off and the world keeps spinning beyond Saturday's 5-month countdown, you can keep up with his activities by clicking here.