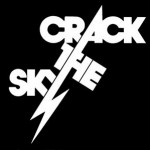 Crack the Sky had a lot going for them when they emerged from West Virginia in the mid-1970s. Lead singer and prime mover John Palumbo was a clever songwriter with a penchant for whimsically sardonic lyrics as well as being a skilled and lyrical piano player. The rest of the band was no less talented—a powerful twin guitar attack, a supple and precise rhythm section, and tuneful harmony vocals. Wikipedia described the band as being progressive, but that's not entirely accurate. Think of their sound as an amalgam of Queen (without the prissiness), Procol Harum (without the high-church aspirations), Steely Dan (without the jazz), and Cheap Trick (without the high-decibel vocal histrionics). While progressive elements certainly existed, the band members were also capable of rocking as hard as anyone at the time while ably throwing their considerable musical weight around with a near-Yes dexterity.
Unfortunately, all this promise was undercut right from the start. After shopping around to various labels without much interest, the band blindly signed an onerous contract with CashWest Productions, a team led by songwriters Terry Cashman and Tommy West who made a small fortune providing folk-rock hits for Jim Croce. CashWest created a new record label called Lifesong Records and CTS was to be the initial act. The contract basically gave CashWest the whole pie while leaving the band a smattering of crumbs.
CTS's 1975 self-titled debut album is a real gem and remains the best item in the band's catalog. CashWest spared no expense on the recording, even bringing in top session players like the Brecker brothers and David Sanborn on horns. Palumbo provided vignettes about an adrift sailor trying to bargain with God, concerned parents who consider metal friends (and an aluminum cat) for their hopelessly unpopular son, a dream world that is more alluring than reality, an attractive yet air-headed woman, and a man who wonders if his lover is more than just a fair-weather companion. The album leads off with the two-part rocker "Hold On/Surf City," in which, after being admonished by his reflection in the mirror not to foolishly throw his life away, our protagonist tries out some lifestyle choices only to discover that they are not without hazards…
[audio:https://www.rocktownhall.com/blogs/wp-content/uploads/2011/12/01-Hold-On-Surf-City.mp3|titles="Hold On/Surf City"]
"She's a Dancer" would have made a great single. A girl gets admiring looks at a club yet hides a secret—not that it matters all that much in the end to the charmed singer…
[audio:https://www.rocktownhall.com/blogs/wp-content/uploads/2011/12/02-Shes-a-Dancer.mp3|titles="She's a Dancer"]
With this album receiving wildly enthusiastic reviews in Rolling Stone and elsewhere, CTS seemed to be on their way. The band toured extensively, opening for or co-billing with name acts like Supertramp, Rush, Yes, Z.Z. Top, Edgar Winter, Frank Zappa, ELO, Kansas, and Styx. Palumbo later stated that CTS was thrown off the tours with ELO, Kansas, and Styx for blowing away the lead acts. But where was the radio play and why did the debut reach no higher than #161 on Billboard? Simple: Lifesong Records dropped the ball when it came to distribution and marketing. No singles were released, no songs were pushed to the radio for airplay, and albums failed to reach the stores. Baltimore was one of the few places where Lifesong got it right and the band was a success there. However, one city does not a career make and disillusionment as well as internal friction began to set in.