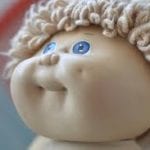 No, this post isn't about the mysterious merits of "Sail on Sailor," but rather Delaney & Bonnie's "A Never Ending Song of Love," which represents a soft spot I know Ben and other music friends a generation older than me has for a certain kind of hippie-folk music. If you know anything about me, I have a great affinity for hippie music and ideology. As a 6-year-old boy, after having seen Easy Rider at a drive-in double feature of biker movies my parents uncharacteristically took me to see, I wanted to grow up to be a hippie. I get it, trust me, but here's where the Cabbage Patch Kids come into this discussion: There's a certain kind of nearly forgotten hippie song – Melanie's "Brand New Key" or The Youngbloods' "Get Together" are possibly two of the best-known examples – that seem to be highly specific to a certain generation. Again, I've got no beef with Delaney & Bonnie, Melanie, or The Youngbloods, but I'm amazed by the less-known examples of that period of music that have made it through the ages, that probably help inform a totally cool music fan's appreciation of "Sail on Sailor" and even Little Feat.
There must have been some lesser known Cabbage Patch Kids that only the cool kids of that generation collected, much like the underground folk-rock that only the coolest of cool music lovers got into after being turned onto. I don't know what that depth of Cabbage Patch love resulted in for that generation, but I bet it was something cool. It wouldn't surprise me if they are among the movers and shakers of the Millennial generation.
I'm not picking on the generation of music fans who came of age prior to my generation, mind you. In fact, I've been looking in the mirror since wondering about Ben Vaughn's generation, obsessing over what my generation's "Never Ending Song of Love" might be.
What is a mostly forgotten song that wouldn't mean much to other generations that somehow unlocked secrets of the musical universe to my generation? Is it Sniff 'n The Tears' "Driver's Seat"?