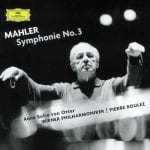 I do own a half dozen classical music albums – the real-deal, old-timey stuff by composers prior to the 20th century, but I've never gotten any feel for classical music as a whole. I know that I can better focus on a string quartet than a full orchestra. I know that people tinkling complex stuff out on a piano often doesn't interest me (although last year I heard a piece that appealed to me in the background of a TV show and realized it was a Chopin piece, so maybe there's hope). Years ago, I bought Handel's Messiah, performed on old-timey instruments, from the time when that piece was written. I'm not sure if this was a cool move, in classical music lover terms or not, but it seemed as if it was.
I own a Mahler symphony on CD that I heard my mistake one morning, as my radio alarm when off earlier than expected, while a classical music program was broadcasting. I still love that one, but I forget which number it it. Maybe his third. I've been listening to a lot of his stuff this week. His 10th symphony, which may have been unfinished, appeals to me for some reason.
This gets to my question: Since all classical albums are "covers," how might I go about checking out the best "cover artists?" I guess that lovers of classical music have go-to conductors, but how would I know one is to my potential liking?
Are there classical music labels that fans of the genre can rely on?
Is there anything to be gleaned from the album cover? Do the beige covers with a sketch of the composer promise one thing versus the covers showing the conductor in action? What about the covers that use a piece of artwork from the general time and geography of the composer? (They strike me as the cheesiest of album covers.)
You get where I'm coming from on this, right? I look forward to your assistance.