As a lead-in to a piece that Townsman KingEd is working up that touches on the influence of Jimi Hendrix on a well-known Friend of the Hall, I thought it would be a good time to revisit this discussion, initiated by Townsman Hrrundivbakshi almost 2 years ago. We've fawned over the magic and majesty of Hendrix before, and Ed's upcoming piece probably won't be the last time. While we await our next related Hendrix-centered thread, think about what HVB and others said way back when.
This post initially appeared 6/24/07.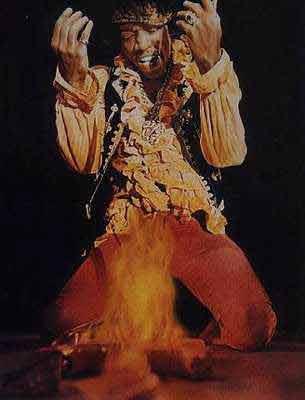 Today's burning question
Why do we love Jimi Hendrix so much?
That's not a trick question, by the way, or a snarky way of letting the universe know that I think he sucks major ass. 'Cause I don't. I think Jimi Hendrix was an astonishing, timeless talent — one of the few "rock" musician types that truly deserves to be placed in that awkward "genius" category.
For me, Hendrix is simultaneously forward-looking and free; focused and intense; hippy-dippy and sweet; brutal and bludgeoning. He was avant-garde without being precious, snide, or academic about it. His virtuosity never — and I mean that literally — never ceases to amaze me. There's always something new and unbelievable to hear in a Hendrix song, if you're listening with those kind of ears. And if you don't, or can't, listen as a player, it don't matter, 'cause his songs are strong.
He also had a dynamite Look — man, that (pardon me, and insert 1974 Rottun Teef Keef "tracksssss…" voice here) "super spade" thing, combined with a stage presence that turned him and his guitar into one giant, raging rock hard-on, was just fucking unbeatable. Think of Mick Jagger or Robert Plant or any other white front man contemporary of Hendrix's — in their rock posturing prime, on their best night — and they all seem positively tea cozy and cardigan sweaters compared to this dude.
But look — I'm opening up this thread because I just want to know how and why you love Hendrix as much as you do. I'm also looking for those spine-tingling recorded moments that make you wait in eager anticipation — like the hair-singeing opening notes to "Foxy Lady" or the moment when "Ezy Rider" comes roaring back into the main riff after the bridge, or — well, you get the idea.
Why do you love Jimi Hendrix so much?