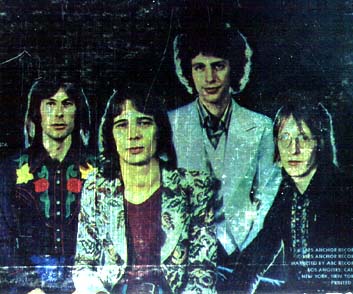 Not even Bruce (far right) could help Moonrider
I think I struck a nerve in a Townsman the other day when I referred to "mediocre" Costello songs that were made by Attractions bassist Bruce Thomas. He wanted to know what songs I had in mind. Leaving out Brutal Youth, an album on which even Pete Thomas starts to sound limp and on which Nick Lowe actually plays some bass (and I don't want a Pince Nez pulled on me if I incorrectly give Bruce credit), as well as a fantastic, nearly non-song like "Lipstick Vogue", which is made equally by both Thomases in the Attractions' rhythm section – in no particular order – here are 10 mediocre Costello songs that were made interesting almost solely by the bass playing of Bruce Thomas.

"5ive Gears in Reverse" (Get Happy!!): A pretty pointless song save the spelling of the song title and the groove, and a pretty pointless groove save the mighty bass playing of Bruce Thomas. Not to take anything away from Steve Nieve's tasty organ fills, but there's a reason why Thomas' bass is cranked so high throughout this, my favorite Costello album as well as my favorite album of all time. Block out the rest of the nonsense in this song and focus solely on the bass parts. Even if you already loved this song, don't you love it more?
"Goon Squad" (Armed Forces): When I was young and first working at getting what I could out of this, my least-favorite of the Classic Costello albums, I could hang onto the vocal effects as well as Thomas' bass playing. In time, however, the vocal effects lost their luster, and all that was left was the rumbling bass part. All in all, this is a relatively bad Costello song, which should be stripped by future bands for parts.
"The Human Touch" (Get Happy!!): Also from my favorite album, this true throwaway might have made a decent Specials song with Terry Hall yelping out the melody. The one thing that keeps me hanging through this short number is the walking bass line of Thomas. No rock bassist can walk around as many hidden corners as this man.
"Pretty Words" (Trust): For a long time, this was a mainstay of mix tapes I made for friends. I still love the song, but further analysis demonstrates that the love is rooted in Thomas' adept navigation of the song's seemingly endless descending lines. Then he chugs up on the chorus in a way that only a barely audible Bill Wyman could have done on a Brian Jones-era Stones single. Brilliant!
"Crimes of Paris" (Blood & Chocolate): Even on this slightest of palatable Costello songs Thomas delivers some of his all-access bass fills.
"Beaten to the Punch" (Get Happy!!): Another one of those songs that sounds dangerous as a 19 year old but requires hanging on for dear life to that wicked bass part as time goes by. Hang on, indeed, for Thomas raises the roof with his pulsating octave pumps!
I hope this answers all questions and that I can return to my mourning of this great rock loss.