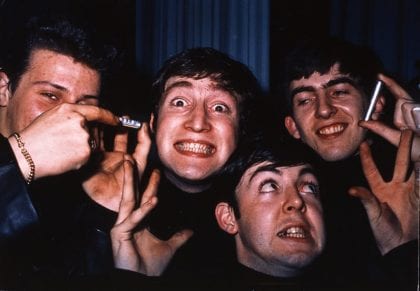 One of my great joys in life is the poker game and all that it entails: spending time with wickedly funny friends, getting polluted, gorging myself with delicious unhealthy food (kielbasa sandwiches; stiff, salty potato chips), listening to choice music (London Calling, The Harder They Come, 12 x 5, etc.), and most importantly, if everything goes just right, experiencing the Blue Velvet-like thrill of having everyone's money in my pocket at the end of the night.
It was one during one of these poker sessions that our severely stoned ring leader (who has chosen to remain nameless because he's a wuss) brought this up after landing a Jack between a deuce and a King during a lengthy Acey Deucy round that netted him a pot of about 50 bucks: "You know what?  I'd give all this away right now and everything in the bank if I could go back in time to see one of those early Ramones CBGBs shows, where they played with Television, Suicide, that early version of Blondie…Can you imagine seeing something like that? Jesus!"
The actual music that came out of the CBGBs scene was really not my cup of tea, but the stories surrounding it were a whole 'nother matter. I too would have loved to have been there. Would it have been worth emptying my bank account? In that state of mind during the poker game? Maybe. Seeing the Preludin-fueled Beatles at the Star Club in Hamburg in 1962 with a recently added Ringo? Absolutely and positively. To be at the front of the stage, guzzling that elixir like German lager with Lady Gergely in tow, in our late teens (with a guarantee that we would somehow or another be able to return to the present in one piece), watching them tear through "I'm Gonna Sit Right Down and Cry," "Red Sails in the Sunset," "Too Much Monkey Business," etc, marveling at Lennon's ability to insult the Germans continually, not caring one whit about any kind of consequences, and just plain being in the thick of that "anything goes" magic environment of locals, sailors, exis, mobsters, prostitutes, transvestites, etc, would without a doubt be worth the trip to the bank. With all that in mind, I now ask you: If the opportunity presented itself, which big music event would be worth seeing at the expense of a secure job, marriage, retirement fund, you name it?