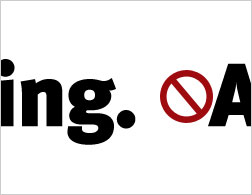 [NOTE: This thread was previously private and able to be seen only by the eyes of RTH thread authors. Those who are weak of heart may want to avoid this thread altogether. – Mr Mod.]
This is a private message for the eyes of Rock Town Hall contributing writers only.
I hope you know how deeply I appreciate your input and look forward to you launching new threads in 2014. In the coming month I hope to share some ideas and new developments that have been formulating in The Back Office. Meanwhile, as some of you may have noticed, as your editor I'm a stickler for using only 1 space after a period. When you submit a post with 2 spaces following the periods, I can't wait to sweep those extra spaces the hell out of there! So you don't think I'm crazy, or—should I say—so you know I'm crazy for a reason, the following piece that one of our 2-spacers sent me this morning will surely convince you of the merits—no—rightness of my ways! Thank you.
http://www.slate.com/articles/technology/technology/2011/01/space_invaders.html