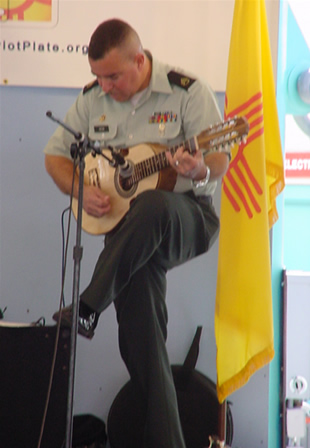 Whatever song this guy's playing ain't cutting it!
Taxpayer, Super-Patriot, and Townsman hrrundivbakshi's recent tale of walking out on a poorly executed and inappropriate performance by a US Army rock and soul band raised the obvious question: What would be the appropriate setlist for proper, rocking execution by a US Military rock and soul band?
Here's an excerpt of HVB's super-patriotic rant:
ESPECIALLY since the band showed no taste or common sense at all in their repertoire. I mean, come on — having (for example) a curvy female sergeant in camo pants, jungle boots and tight T-shirt singing "Walk This Way" — I mean the whole lyric, with all the references to schoolyard pussy and what-not — to a room full of teenage boys? With Sam Ash guitars screaming in the background? I'm no prude, but… wha? What does that have to do with love of country, or the caissons rolling along?
Read the whole thing to see what this taxpaying cat's getting at, then contribute to a setlist worthy of our armed forces! Don't be some namby-pamby kiss-up and suggest non-rocking songs like "This Land Is Your Land." Don't show your hatred for the Middle America that our troops protect by cynically suggesting Toby Keith numbers. This is YOUR US MILITARY ROCK AND SOUL BAND (at least for our US readers, but we invite readers from all nations to help construct this setlist). You've got 15 songs plus an encore. Make your setlist suggestions count! This set needs to represent all that is rocking about our armed forces and the United States of America!
Taxpayer and Super-Patriot hrrundivbakshi will decide all final set selections. Thank you.