As many of you know, I'm a big fan of Roy Wood, in particular his work with The Move and his solo album Boulders. However, once he crossed the line into ridiculous, futuristic-retro glam with Wizzard, I have trouble keeping up with the guy. First of all, his recordings sound worse than ever. I'm no audiophile, and I've always found something charming about the overloaded sound of The Move records and the claustrophobic Boulders, but Wizzard simply sounds terrible – and not in a good way.
More troubling is the progression of Wood's Look and what it says about his interest in communicating with humans on any level. As seen in this 1972 ELO video, the guy was pushing it a few years before Wizzard and his Mustard solo album. It's one thing to be "eccentric," quite another to announce to the world that you do not intend to ever be taken seriously, not even in a joking way.
Anyhow, I've rarely found interviews with Wood, and my attempts at reaching him myself have not been fruitful. I'm all for rock's outsiders, wildmen, and such, but someone needs to put a little scrutiny on Roy Wood, someone needs to ask him one question: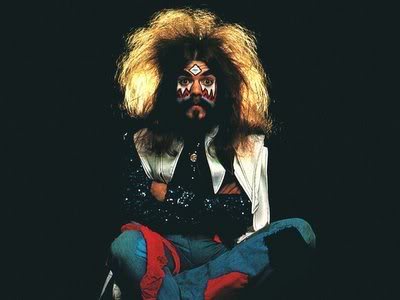 Uh, Roy…
What the fuck?!?!
As a cult artist, and even less than that in the US, it seems no one bothers to speculate on what the deal is with Roy Wood. Does anyone talk about his upbringing, drugs, a woman, a religion? Is there any possible explanation for what became of Roy Wood? Should it really matter if there is an explanation? Probably not, but considering all the scrutiny rock fans grow up learning about the likes of Jim Morrison, Janis Joplin, and Jeff Tweedy, why shouldn't we get to scrutinize Roy Wood?
There are some other artists I can think of who've managed to fly their freak flags way under the radar, such as Jonathan Richman. Has anyone ever taken the time to figure out what his deal is? What artist do you feel is badly in need of some scrutiny?