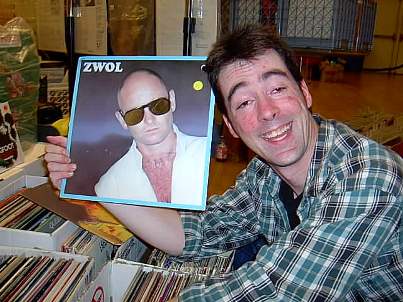 Hey, that's my old copy!
Last week, I believe it was, Townsman 2000 Man made mention of an album cover that was so appealing that he couldn't resist buying the album, despite the fact that he knew almost nothing about the band. I had a similar experience in high school when I first saw a huge display of Elvis Costello's My Aim Is True at the old Peeches record store on Roosevelt Boulevard. I bet I wasn't alone in taking the plunge on that album. Great cover! In the days of vinyl and 12-inch come-ons for artists' new works, I'm sure I took a chance on a couple of albums per year. These days, the old CD cover doesn't pull as much weight with my wallet. What album covers made you take a chance on an artist you knew almost nothing about?
While you're pondering this, if we kept track of the ratio of albums sales based on cover art to actual spins of purchased record, would any album have a lower ratio of sales to spins than the classic Zwol album? My guess is that my personal 1 sale:2 spins for that album is not far off the average among the other 43 people in the world who probably bought that album just for its ridiculous cover.
I look forward to the anticipation with which Oats looks forward to your responses!