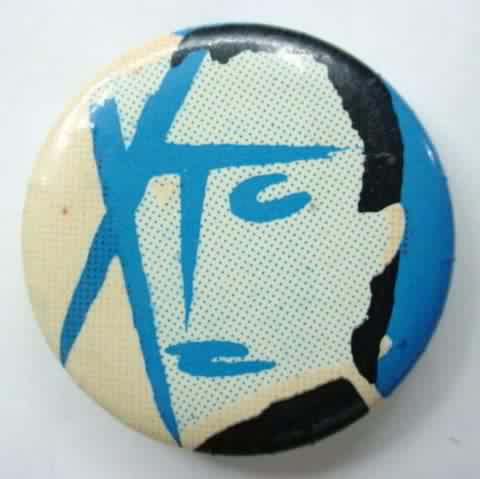 Pushing all the right buttons
It's too bad that XTC is best known for, among other things, being that once-promising New Wave band with a leader whose severe stage fright caused them to stop performing live, ultimately killing the band's commercial chances and artistic growth more than any series of Malevolent and Incompetent Managers. From the band's second album, Go 2, through Mummer (and even the intent of The Big Express) released one of my favorite strings of albums of any band. Those albums still mean a lot to me on many levels, and at their core I've always loved their ability to cram super-pop ideas into heavy, sometimes fractured rhythms. The Beatles met Beefheart or Steve Reich or any number of avant musicians.

Just as I was first getting into the band, after seeing the videos for songs like "Making Plans for Nigel" and "Life Begins at the Hop" on the syndicated New Wave video show Rockworld I saw an ad for the band's upcoming appearance at Emerald City, in Cherry Hill, NJ. The ad featured that Drums and Wires logo, which was reason enough to dig deeper on this band. I briefly considered what it would be like to get into that show, but I was an innocent 16 years old, too young and too naive to attempt getting into this club illegally (you had to be 18 to get into a bar in New Jersey at this time). I probably spent that night staying up late in hopes of catching an XTC video on Rockworld.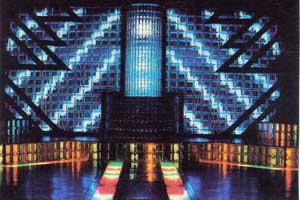 Emerald City was primarily a disco
About 3 days later, I won tickets on Philadelphia's WMMR to see some blues-rock band called The Nighthawks…the next night at Emerald City. I knew these guys weren't XTC, but I wasn't going to miss my chance to get into a club and see a rock band up close while I was still under age. I thought fast, and my very cool, prematurely gray high school English teacher agreed to escort me to the show. This was all cool with my Mom. I got in without problem. The Nighthawks were pretty bad – and they definitely weren't XTC. Damn, you mean to tell me I could have gone to see XTC with my teacher a few nights earlier? Here's the live sound of XTC that was cooking around that time, a taste of what I missed.
"Life Begins at the Hop"
"Real by Reel"
"When You're Near Me I Have Difficulty"
"Complicated Game"
More bootleg live tunes and thoughts follow.


A couple of years later I would own all the XTC albums that were out at the time. English Settlement was a real landmark for me. I still think it's one of the most accomplished albums of its time. I still remember reading a "Random Note" in Rolling Stone or somewhere about the band having to cancel its just launched tour owing to Andy Partridge's stage fright and some fall he took from the stage. I didn't think much of it, figuring he'd get over it and eventually I'd get to make up for that concert opportunity I missed. As it was, some of these performances of the new songs from English Settlement would be the last time anyone would hear the classic XTC lineup of Partridge, Colin Moulding, Dave Gregory, and Terry Chambers play live. This stuff is pretty smoking for a band led by a guy with severe stage fright. Can you imagine if some modern-day shrinking violet, a Cat Power, for instance, kicking it out like this?
"No Thugs in Our House"
"Senses Working Overtime"
"Snowman"
History will remember XTC as the post-touring Prock version of the band, whose band members' whining about getting screwed by the industry will only be outweighed by the whining of the band's own fans, who fail to acknowledge that the deck was stacked against a non-touring band led by a pudgy comic book collector. But that's cool. I still love XTC, even after years of tight-ass, mediocre albums and overrated homages to the overrated Beach Boys' track "Heroes and Villains".

Let's get this straight: I wish they'd have been as fantastically successful as the next Chalkhills member wishes they could be, but I'm more interested in bringing to light the true greatness of the band's years with a real drummer (not some hired gun like Prairie Prince but a regular bloke who couldn't stand taking direction from his pudgy bandleader who nevertheless benefitted greatly from his guidance), during the period when the band had to play their songs on stage, in front of real people, even women. Beside The Beatles, has any band that's quit the road made a kick-ass, rocking recording? You can hear it when bands have completely lost the taste of The Road.
If you're still not convinced that XTC is the best live band that's best known for not playing live, here are a couple more examples of the band in concert, first an extended jam from their Go 2 era, with Barry Andrews on organ instead of second guitarist Gregory, and then a trio from the majestic Black Sea.
"Battery Brides"
"Respectable Street"
"Paper and Iron"
"Towers of London"
For more XTC downloads (possibly where I first found these tracks a few years back), check out xtc4u.org.