Townswoman Citizen Mom sends us the following review of the new Tom Petty and the Heartbreakers collection, Running Down a Dream.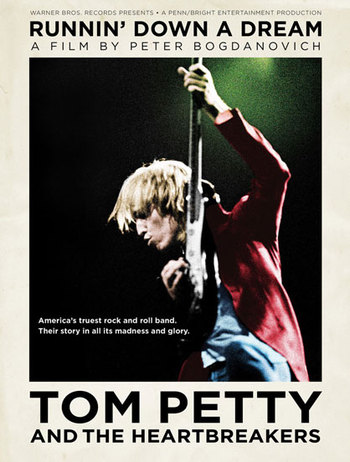 The booklet included in the four-disc DVD set of Tom Petty and the Heartbreakers: Runnin' Down a Dream, calls them "America's truest rock band," and after some consideration and more than seven hours of watching and listening last weekend, I am not inclined to disagree.
Though it's worth noting that, whether ironically or accidentally on purpose, the very best moment in the whole package comes near the very end of Peter Bogdanovich's superb documentary, as the band winds down a one-off, one-take version of Hank Williams' "Lost Highway".
"Isn't that a great fuckin' song? It's just a great fuckin' song!" Petty exclaims, giddy like he's just hearing it for the first time. If you plow through the entire four-hour movie, plus the two-hour 30th anniversary concert DVD, plus the hour-or-so long bonus soundtrack cd, you're pretty much guaranteed a handful of those moments. Go back and listen to "Here Comes My Girl" or "The Waiting", and thank the Rock Gods for rhythm guitar and men who fall in love.

Consider: By the time they recorded their first live album, Pack Up The Plantation, in 1985, the Heartbreakers had already been responsible for "The Waiting", "Breakdown", "American Girl", "Refugee", and "Southern Accents" – more "classics" than a lot of bands have in a whole career of chart hits. The film shows how, through the early '80s, the Heartbreakers and MTV got along like a house afire even as Petty alienated every record label executive from here to Gainesville. It strikes me that they embraced the music video form as enthusiastically as say, Duran Duran did back in '82-'86, though in a less "pretty" way, but aren't thought of as an "MTV band." Through the later '80s and '90s, Petty — with the Heartbreakers, solo, and with collaborators — churned out and charted as many radio-friendly rock/pop hits as, say, Aerosmith, but without the hackish self-parody. The Heartbreakers flirted with New Wave sneer, Byrds-y folk flights, and the Lynyrd Skynyrd-y Southern fried thing, but have generally avoided labeling as anything other than "American rock."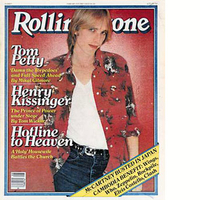 "TP" is for Total Package
Much of the credit for that goes to Petty himself, pegged for glory by the Powers That Be early on. Bogdanovich, employing a library of vintage clips and home movies large enough for a Ken Burns special, shows us the requisite efforts with a string of early bands, each more badly named than the next (hello, Mudcrutch?) before Petty alone is offered the big contract. Once in the hands of the very corporate rock machine he (rightly) despises, his Look quickly goes from college-town long-hair to Total Package Rock Star, with a perfect cascade of golden layers, skintight Levis and that Cheshire cat grin. There's a lot of talk of "chasing women," though no actual women appear in the film save his daughter and Stevie Nicks, who says she pleaded with Petty to let her join the band and was told, quite simply, that "there's no girls in the Heartbreakers." Still, seeing the archival footage of them working together during the recording of "Insider" and "Stop Draggin' My Heart Around", which appeared on his Hard Promises and her Belladonna, respectively, it's easy to imagine what could have happened if she'd hooked up with Petty instead of Lindsay Buckingham.
As usual, Philly was ahead of the curve on the Heartbreakers — producer Jimmy Iovine's involvement brought the band to big, third-album success, same as he did with "Bruce and Patti," on Damn The Torpedoes. But if you grew up listening to the radio around here, you know that the first two albums, the self-titled debut and You're Gonna Get It! were already well-loved by 1979. Thanks to the ever-reliable combination of the city's FM rock stations and the radio in my sister Terrie's '72 LeMans, I feel like I was born with the words to a half-dozen of their songs on my tongue.
"I can tell you we played Tom Petty's (1976) album from the first day it arrived at the station," said 'XPN's Helen Leicht, who was spinning at 102.1/WIOQ in those days. "We played that album for at least a year before the rest of the world got Tom Petty. We hosted Tom Petty at a small club, The Other Side," she told me, adding that the staff encouraged Shelter Records not to give up on the Heartbreakers.
Well, as we all know, and as the movie probes in some depth, the label's desire to hold on to Petty's work even after they were sold to MCA became a big legal mess that dragged through the courts and threatened the release of Torpedoes. The net result of Petty's crusade to own his own work, and his later battle against the dreaded $9.98 LP price, means today's musicians owe him for more than just a catalog of great songs to cover.
Again, that much drama, combined with that many songs entrenched in the late-century rock canon, would be enough to fill a two-hour documentary, but wait! There's two hours more, showing Petty's unapologetic capability to be an utter dick and still bend people to his will through a combination of flat-out charm and a pretty reliable moral compass — at least where music is concerned. And from the departure of drummer Stan Lynch (fired by the road manager over the phone), to a profanely gorgeous smackdown of a record executive trying to foist a crappy song off on Roger McGuinn (Petty: It "perpetuates the depths of shit we're in with pop music") to swiping Del Shannon's bassist, people seem unable to dislike him.