I reached soon-to-be former Television guitarist and solo artist Richard Lloyd at his hotel in Hamilton Ontario, Canada, as he and The Sufi Monkeys, were about to kick off a brief tour of Ontario and select US cities, winding their way to Philadelphia's Khyber on Thursday, May 17 and ending up back home in New York City at the Knitting Factor on May 19.
Within minutes of his gradual emergence from what sounded like a Nosferatu-like awakening, it became clear why a mic has rarely been set before him by any hands other than his own. The guy wouldn't shut up. Better to have all that energy and bullshit pent up for his guitar solos, I'm sure some of his collaborators have thought, but this guy's on the verge of something big, and it's time we let him have his say.
Today, Central Park SummerStage series is set to announce the appearance of Television on June 16. Lloyd has announced that this will be his last show with the band so that he can dedicate his energies to the fall release of a new album, The Radiant Monkey. Meanwhile, in February, Lloyd reissued his 1985 album Field of Fire in an expanded edition that includes a second CD on which he re-recorded and remixed much of the original release. I had hoped that this rare do-over would be part of an enlightening and nerdy discussion to suit the fantasies of our Townspeople, but instead I was treated to a torrent of intergalactic mumbo jumbo and would-be provacative macho cock-talk. KISS' Gene Simmons pulling that crap on NPR's Terry Gross is high-brow water-cooler talk. A cult guitarist pulling similar crap on a plain old dude whose intentions are good is one of life's little regrets.
Everything I say is a joke…
[In a croaked whisper…]
Richard Lloyd: I'm a little under the weather as far as my voice is concerned. It's sort of par for the course that I would develop a chest cold and a sore throat in front of 11 days straight of singing. It's part of my karma. It's kind of a cosmic joke that's played on me. You know, my vocal teacher – one of them – used to tell me that I should quickly run into a recording studio and sing, because I would have a husky, sexy voice. Even though I would lose my top notes, I would gain a few bottom notes as I sing my ballads and love songs. [hacking cough]
Rock Town Hall: If you get to a point when you need to stop to save your voice, just say the word.
RL: That was about 5 minutes before you woke me up… I'm kidding. Everything I say is a joke… I'm vertical now. This is better. Fluids will move.
RTH: Can you tell me about your new album coming out in the fall, The Radiant Monkey?
RL: You're not allowed to say that. You haven't got permission. You can say the letters R-M. I'm serious, don't print that. Just say R-M. You can say that I told you you're not allowed to say it. That's different than saying it. It has to do with my ad campaign, which is all teasers, to begin with. So if you blow it, it's like the punchline.
RTH: I'm going to be tracked down.
RL: No, you'll just interfere with my plans for conquering earth.
RTH: I also read that coming up in May will be your last appearance with Television.
RL: No, in June. What are you reading, for godsakes?
RTH: Your website. It said this would be announced on May 15th…
RL: June 16th! I know what's on my website. It's not May. It's June.
RTH: Can there be a Television without you?

RL: I don't care. Let them try. Our original agreement was that any three could replace a departing member and continue under the name Television. God bless them if they want to continue getting a fourth member, like perhaps they want to hire Jimmy Ripp. Good luck.
RTH: Good guitarist, but he's not you.
RL: No he's not me, and since I practiced invisibility for fucking 35 years, you know, excuse my French… I wish them well. It's an amicable departure. I simply do not have the wherewithal to put my magical and supernatural forces in two projects and I can't ride two horses. My own career has simply turned into a religious project to save the earth and the little critters that crawl on its thin, cooled surface over the real earth, which is, if you want to know what the earth really looks like, look down an active volcano. But upon the thin cool crust, whereupon the little critters crawl and fight each other – they're not very nice to each other – we Sufi Monkeys have simply got to help teach them to be nice to one another. And if we have to do music and shamanic performance, so be it. I'm asking for religious status for my Sufi Monkeys because we're embarked on a project quite as equally – in fact much more important to the benefit of mankind – than Scientology.
RTH: Will we need to dress appropriately for your shows?
RL: Yes, with clothing… Unless you're a woman. Women do not have to wear clothing at my shows.
RTH: Sounds like a good policy.
RL: It is a good policy. You know the book of Morman has some odd things to say. Why shouldn't my religious document have equally audacious, outrageous, and ridiculous statements? Do you know the Church of the Subgenious?
RTH: Yep.
RL: Well, my favorite saying is when they asked Bob if he practiced what he preached, and he said, "Of course not, I'm not the kind of person I'm preaching to."
RTH: Now, you've also recently –
RL: Now? You said "Now?" What about then?
RTH: We can get to then later; there's plenty of time for then.
RL: Thank you, you're beginning to learn. You see how I've influenced you already with my powerful forces of hypnosis? You are now a better human being than you were then, from before you called me. That's in fact how it works with this and me.
Lloyd went on to talk about the most important event in mankind that was underway, the piecing of the heliosphere by Voyager 2. Considering that I still can't tell my Big Dipper from my Little Dipper, I spaced out for a while he found his groove.
RL: I'm sorry I got into my harsh period, you know, like Jimi Hendrix [goes into "Third Stone from the Sun" voice] "I said on the people farm…" – you know, Jimi Hendrix, "Third Stone…" [makes raspberry noise]
RTH: Right. I'm getting a "Third Stone" vibe here.
RL: You know, you were recording me, right? How are you gonna quote [raspberry sound]?
More time in my life passed through the hourglass, as Lloyd correctly sussed that I didn't read enough comic books in my youth. I was reminded of Ernest Shackleton's ship, Endurance.
RL: Jimi and I have a personal relationship. Just like you have a personal relationship with your savior and your chief monkey, Jesus or whoever, Shiva, I have relationship with my master and guardian. I don't just have one guardian angel. I have phalange. Do you know anything about a phalange?…
I knew the word, although I had to endure the derivation of the word and a brief history lesson. Truth be told, I could care less about the Roman army, Roman history, and the like.
RL: I'm applying for religious status in the United States to improve my financial picture.
RTH: And then what's next, conquer Katie Holmes?
RL: Conquer? I'm going to seduce the little critters into being nice to one another on earth. You know, we haven't talked much about music.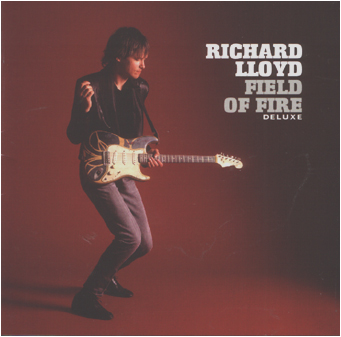 RTH: I'm curious about that. One of the things I wanted to ask you about was the Fields of Fire reissue.
RL: No. Jesus Christ, it's not plural! It's Field of Fire. Singular. Because it's anything that seduces you on earth horizontally. It might be dice, women, whatever it is that keeps you running away from yourself towards some other kind of inducement. That's the field of fire. It's the opposite of the Buddhist Nirvana, which is the cessation of desire. That's what Nirvana means; it's the blow out. It's the blow out of the candle of desire. So what do you want to know about the FIELD of Fire? If you want to know about the fields of fire you should probably go to Hawaii.
RTH: Here's what I want to know about the Field of Fire –
RL: Thank you, Mr. Journalist who's done all his research.
RTH: Mr. Journalist is bad with his proper nouns.
RL: Oh my god, let me come over and kiss you. Would you like to sit on Uncle Richie's lap? I have a big hard cock.
RTH: No thank you.
RL: My bass player is unfortunately laying on the floor in gales of laughter. I mean sustained winds of 40 miles or more are roaring through his lungs, and he's bouncing like a bellows. He's only surpassed by Santa Claus in the manner of his laughing…
Then I was treated to lecture on newspapers that was meant to blow my mind, maaaannnnn, but I didn't have the heart to tell Lloyd that more pressing matters, like the divorce of my parents already did that 30-some years ago. I endured.
RL: You know my new band are The Sufi Monkeys. I'm only one of them. It just so happens that my name has better publicity value, that's why my name gets mentioned first…
Somehow Lloyd then got carried away with this thoughts and challenged Jim Morrison to a fight. I let out an audible sigh at the realization that I'd be getting very little rock nerd nookie out of this long-distance call.
RL: Yeah, "Uhhhh" – I heard that little sound, you little critter.
RTH: Hey man, that was a positive sound.
RL: I know, it was the release of some negative energy from you. Involuntarily I forced it upon thee… You see, everything I say is completely thought out. I mean, I'm not thinking right now. Why would I waste my fucking brain on that? Thinking's like the foam on a beer. Takes up a lot of space. Doesn't get you stoned, and I'm permanently stoned. You can realize that by the fact that you woke me out of a deep sleep, and I'm already so wrecked, and I've been speaking nonstop. I'm so verbose I haven't had time to do anything intoxicating. All my wishes have come true. Lightening has struck me three times: during Marquee Moon; CBGBs, which was a 3-year-long New Year's Eve party that I threw along with my friends and all those other bands that would otherwise have day jobs if it weren't for me; and during the Field of Fire days; and now. You know, three is the most important.
CBGBs is the most famous rock 'n roll club to have ever existed and I fucking created it!
RTH: Tell me about your days setting the scene at CBGBs.
RL: We needed a place to play. A shithole nobody else wanted, and we steamrolled over the owner, who wanted to have country bluegrass, and we created the world's most creative rock 'n roll club bar none. I mean, is there any – I don't care for your Cavern Club, Marquee Club, Whiskey-a-Go-Go, Boo-Hoo-Hoo Club… CBGBs is the most famous rock 'n roll club to have ever existed and I fucking created it! I was the invisible force behind it, because Terry Ork, my lover – oh, he wasn't, he just chased me around. I mean, after all, he was Television's manager. Who's more interested in the careers of young, delicious-looking men than gay people? After all, Brian Epstein… Any rock 'n roll manager is one of two things: either a sleazebag, cigar-smoking asshole businessman or a gay person. I'd much rather be managed by a queer. Queers are usually nicer than the other critters that run along the surface of the earth trying to play the game of King of the Hill.
RTH: Back then, when you were playing 10-minute long songs –
RL: We're still playing 10-minute long songs. Aren't you coming to one of the shows? We're also playing 2-minute long songs. What kind of man are you, questioning my length?
RTH: I have no problem with your length.
RL: I've learned to make mine, like, 2- and 3-feet long…by folding it in half. Rolling it up like a firehose, but the girls like to unroll it, because I'm a back door man and a king bee. You follow?
Much silly talk about the sharing of wishes that had already come true and yoga ensues.
RL: Insignificant little writer! I could crush you like a small beetle, and irradescent colors would come out. It would be very pretty. It would be worth your death.
RTH: You have made me cry already, long before we've had this conversation.
RL: I have? I apologize.
RTH: No, please. They were tears of joy.
RL: Ah, the weeping of joy from the musical experience that super mighty mouse Richard has given you. Yes, I've made people stop breathing, jaws drop…
RTH: I was at a show years ago in Philadelphia when you were playing with Matthew Sweet.
RL: Matthew? I love Matthew. Wow, let me get off the phone so I can talk to him. I like him! No, I like you too. What's your name, little girl? Hey, can I sit next to you, girl? Remember that AC/DC song?
RTH: When I saw you with Matthew Sweet –
RL: Hey, are you recording this for posterity? Mankind needs this! Very badly.
RTH: I'll put it in a capsule and send it out to space when we're done.
RL: What good would that do mankind if you send it to outer space, you idiot? It's coming from outer space! That's like a letter with something important in it, and you're returning it to sender. Elvis did that and look where it got him. He died of straining a stool. Please, with a fucking Nixon badge on. Don't do that to me!
RTH: When I saw you with Matthew Sweet, every guitar player in Philadelphia at that time was gathered at your side of the stage –
RL: Yes, staring at my fucking crotch! OK.
RTH: I was surprised people weren't shoving dollar bills down your jeans.
RL: I was saying to myself, Will you please move over and let me see some tits? At least if you're gonna stand there staring at my crotch lend me your girlfriend after the show.
RTH: Have you ever considered pulling out an acoustic guitar to move the guys out of your way?
RL: I have big burly security men with me this time. I have a posse… So tell me more about the crying. You're not letting yourself get a word in edgewise. I'm a New Yorker.
RTH: [speechless]
At that moment I looked across the room in my hotel room and realized I had 20 minutes to pack my stuff and check out. I have failed you, Rock Town Hall, but I'm man enough to own up to my failure. I look forward to Richard Lloyd's guitar's thoughts on this interview.