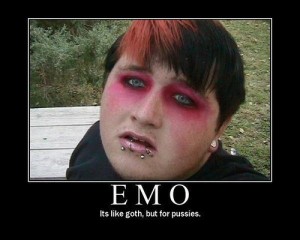 While surfing the web last night, I happened upon this post on ehow.com. I find it amusing for several reasons, but I'll let you read it for yourself. But I will mention one facet of it I enjoy: That it is specifically aimed at emo bands. Does this mean there are different rules for quitting other kinds of bands? What would be the rules for quitting a heavy metal band? A ska band? A zydeco band?
Here, without further ado, is the sage advice from one "emo" to another:
How to Quit an Emo Band
By an eHow Contributor

Playing in an emo band is a fun endeavor for many emos. Sometimes, things happen that make it necessary for you to quit the band. If you simply find the band boring, it will be easy to quit. If you have to quit because your parents are making you or because of other uncontrollable circumstances, quitting the band will be more difficult.

Difficulty: Easy
Instructions

Think about your reasons for quitting the emo band. Write out a list of the reasons. Make sure that the reasons you list are your true reasons for wanting to quit the band.
Decide if there is any way that you can stay in the band. If there is a problem to solve, talk to the other band members to see if you can come to a suitable compromise.
Talk to the other band members about your reason for quitting the band. Be honest with them.
Discuss quitting the band with your parents if they are making you quit the band. Find out if you can stay in the band but practice or perform less. If you have to quit because of your grades, find out if you can join again once your grades are up to par.
Try to stay in the band long enough for the band to find a replacement. If it is possible, help them find a good replacement.
Consider becoming a stand-in member of the band, if possible. This will give you a chance to perform occasionally. You would have to be available for practices before the performance.
Support the band by going to shows even after you have quit. Every fan in the audience counts, so it will mean a lot to your former bandmates if they see that you are still there for them.