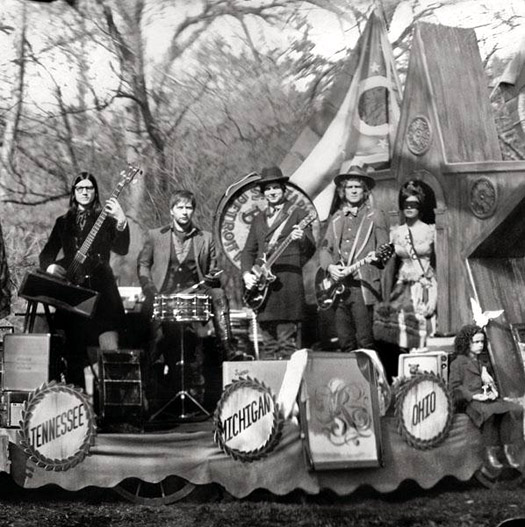 So The Raconteurs are back with a second album (streaming at Phawker.com – click the title of this post to be magically transported there). Who woulda thought The Raconteurs would really be a band and not just a Jack White side project wank-off one-off? Not me, buddy boy. Not me. And while I tip my tri-corn hat to the Raconteurs for kicking it old school, turning this thing around so quickly, and releasing it without all the pomp and circumstance that usually precedes a White Stripes release, I just wish this album didn't suck so bad. To wit:

"Consoler of the Lonely": Nice Bad Company/Foreigner vibe, for what that's worth. Now they've shifted into a goofy sub-Zeppelin section that verges on, I don't know, Les Claypool territory. Now back to the more traditional rock groove and then a little guitar and drum workout. Meh.
"Salute Your Solution": Remember the '80s, when SST bands wanted to flex their '70s hard rock roots? Between the sloppy playing and worse production, the end result was its own thing, which often often sucked but at least avoided punk-rock charges of being "bloated," "wanking," and "pointless." Well, Jack White and the boys can play, and they know a few things about producing. As a result, this is a bloated, wanking, pointless hard-rock workout.
"You Don't Understand Me": What is this, a tribute to Asia or Anderson, Bruford, Wakeman, and Howe? Actually, as it plods along, it's beginning to sound more like one of those later-period Crosby, Stills, Nash albums, which retained a hint of what was good about that combo before Neil Young moved on.
"Old Enough": Dig that fiddle stew and the multi-tracked lead vocals. All that's missing is the flute and the codpiece and we'd have the makings of a Fairport Convention (circa Full House)-Jethro Tull collaboration, or maybe this is a track from an early Traffic album. The Raconteurs really need to apply their knack for cheesy '70s craftsmanship to remaking Boston's first album. I mean that as a compliment.
"The Switch and the Spur": This reeks of that wouuld-be Sergio Leone soundtrack number that was on the last White Stripes album. Worse yet, it's Men at Work meets "Theme from an Imaginary Western". Check out the brief, powerful guitar solo for a hoped-for saving grace. Now there's some chanted coda that sounds like Styx. This turd is blossoming on the vine.
"Hold Up": I don't believe I've ever heard the music of Uriah Heep, but I imagine it sounds like they beginning of this song. For some reason I'm reminded of smoking dirtweed with a kid from 8th grade named Chris out of pipe he carved out of an apple core. Like that pipe, this song is half-assed, but it's more fun than anything else I've heard on this album.
"Top Yourself": I think we're in for a blues hoedown. The singer's "not going to stick around to help" his self-absorbed woman. Here's a threat we've never heard before. Just last night I was watching the melodrama Mildred Pierce, and Joan Crawford's first husband character threw down pretty much the same challenge. We know how that worked out. Now, I know Led Zeppelin III blues hoedowns. Led Zeppelin III blues hoedowns are a friend of mine. This is NOT a Led Zeppelin III blues hoedown!
"Many Shades of Black": Blood, Sweat & Tears do "Satisfaction"? Paul McCartney jams with Chicago? Is the point of The Raconteurs to allow the band members a chance to come clean with the guilty pleasures of their record collections? Can't they frame this professionally done mediocre music in a rockumentary setting so that I'm better able to laugh along with the jokes?
"Five on the Five": Another Les Claypool-does-Rick Derringer tune. More dirtweed smoked through the apple core pipe. Music like this makes me begin to appreciate Guns & Roses. There's something fun about this song, but I feel like I should be trolling 15-year-old girls. Yuck.
"Attention": This sounds a lot like a White Stipes song. Even when they switch from the direct garage approach to a little Judas Priest chorus section it sounds out of place on this album. And I mean that as a compliment. What's going on now, are we "moving in stereo" with this Cars-like breakdown? Nope, we're back to a Man of the People '70s guitar dual. Don't tell me the songs just going to end on a string of breakdown cliches. Yep, that's all we get.
"Pull This Blanket Off": A Mott the Hoople bluesy ballad vibe kicks off this track. Come on, guys, for the good of us hipsters, at least make this one as good as a Black Crowes song. Now the song just broke down into…nothing. Jeez, these guys can't match Black Crowes? Where's that recent Marah album when I need it?
"Rich Kid Blues": Serious early Foreigner vibe cooking in this one. Early Foreigner wasn't half as bad as later Foreigner. They were like an overblown Humble Pie when they first hit, and if The Raconteurs could pull off a song as good as a Humble Pie song I'd do a backflip. I'm actually feeling a hair or two stand up on my back as this song plays. (I don't really have to do a backflip, do I? I'll just say I did.) This instrumental coda really hits the spot! The song was crying for it, and the boys delivered. I'm telling you, Jack White should hole up for a while longer with this band and create an album that matches Boston's timeless FM rock.
"These Stones Will Shout": This folky Tull intro is promising. Let's see where they go with it. It's so easy to go wrong when introducing a song with a Celtic folk stomp… OK, it's now rocking out a bit. As the harmonies build the song is sounding more like some high school production of Tommy. Not the road I feared they might take but a bad road nevertheless.
"Carolina Drama": Christ, Jack White in his dusty porch storyteller mode is really annoying! I'd like to punch him as soon as I hear this phony persona. Is this song over yet? No such luck, just a tender piano-choirboy interlude. Let's return to our regularly scheduled hoo-doo-voodoo slice of Americana. Snooze… More choirboy stuff! This may turn into a funny-bad song yet… Ugh, now he's going to give us the end of the story. Way to drain your own song of unintended humor, Jack.