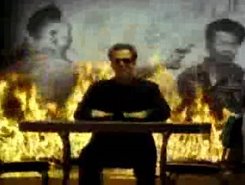 What Else Do I Have To Say?
A week or two ago, several Townspeople owned up to having seen Billy Joel in concert. In the spirit of those courageous admissions, I ask you: what is the least objectionable Billy Joel song? Please factor in lyrics, intent, unwarranted adoption of tough-guy persona, overall delivery, potential drunken singalongs, and that smug face of his if there was a video that went with it.
For some of you, this may translate as "most favorite of Billy Joel's many hit songs" and to you, I say I'll see you in hell thank you for sharing; this is a friendly, supportive environment.