Somehow this post primes me for this weekend's coming edition of Saturday Night Shut-In. The cache of the rock cult artist is a wonder to behold. When this post was first launched, it was hard for us to imagine Lennon and McCartney as cult artists, but a few you could dream. As I revisit this I think about other artists who might have benefitted from cult status – and artists who once were cult figures who became harder to like after "graduating" from that status.
This post initially appeared 11/17/07.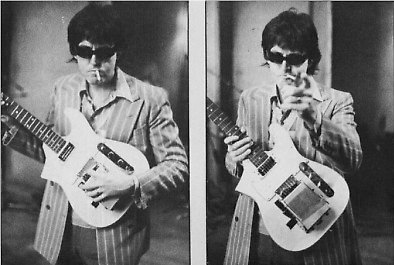 Hey, where've I seen this guy?
I was reading an interview with Robyn Hitchcock that had the following Q&A in it:
Interviewer: Has it ever offended you that you are constantly mentioned as a cult musician?

Robyn Hitchcock: Not at all. I always wanted to be in a cult band but I just didn't know what that meant. All the people I liked when I started playing music were people like Captain Beefheart, Arthur Lee, Syd Barrett, Nick Drake, and a bunch of others. I have always loved The Beatles and obviously they are the biggest band of all time, but I think if they were not all together, Lennon and McCartney could've easily been cult figures themselves. I'm really quite pleased where I am right now."
I'm fascinated by this thought of John and Paul (and George for that matter) as potential cult artists if there had never been a Beatles.
Might they have only been cult artists? Or would the talent and drive have pushed them beyond cult artist status as individuals? If they were cult artists, what other cult artist might they have been most like?