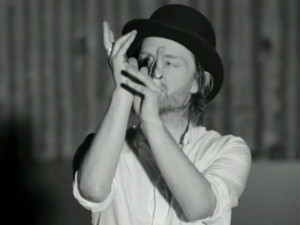 Lotus, the song by REM. The Lotus Eaters, a song by Dead Can Dance. Lotus, the American jam band. Flying Lotus, the dj. The Lotus Eaters, British band from the '80s. Lotus Eaters, another '80s band. Plenty of lotus to go around.
But Radiohead's latest single, Lotus Flower, was the song that became the target of a whole lotta dissing. I've been thinking about the comments that were generated and still puzzling them over.
The self-indulgence of Thom Yorke. So a song sung in the first person about a problematic relationship should depict the whole band? I think I'll take that over some of the '80s band videos that have the lead singer play acting the relationship with a model.
The Bowler Hat. If he wore yoga wear, wouldn't we liken him to, say, the character of Ian, in High Fidelity? Stipe wears modified exercise wear in REM's "Lotus," so does that make that a better video?
The dancing. If the song is about drug use, as posited by the sages of the Suds on Bleeker blog, then isn't the movement pretty representational? Note hypothesis of viagra abuse.
The symbol of the lotus. Out of the muck comes purity. Femininity (those are pretty tight pants). The progress of the soul from materialism to enlightenment. Those themes were popular in the '60s, too.

The video seems to flaunt a lack of the rock and roll ethos. There is a flagrant disregard for lip synching. There are no other band members depicted. There is dancing in a non-white man's-overbite kind of way.
Maybe that's the point.