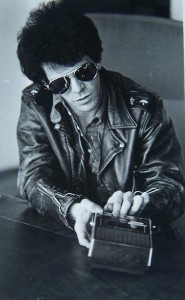 I've been making my way through Neil Young's memoir, Waging Heavy Peace. It's rambling and slow going but not without its charms. Every 10 pages Young turns from the story of his life and music making to what I gather are his main concerns: toy trains, energy-efficient old cars, and some new audio technology that will enable drivers of these green behemoth vehicles to listen to Lou Reed's latest music as it was meant to sound. Shoot, not even Lou will know how his music is actually meant to sound until he rides around in Neil's 140-acre ranch in his souped-up 1952 convertible Cadillac with his high-tech audio delivery device cranked to the high heavens.
I love how Young and Reed go on at great lengths about their high-minded audiophile dreams when their legacy has been established with some of the most primitive-sounding records to appear on a major label. T-Bone Burnett is also working on some mind-blowing audio technology that will allow his purposely pristine-yet-primitive, "pure" productions to sound as if they are being broadcast directly from Plato's Cave. At least Burnett's recordings actually sound about as accomplished as he would like them to sound, even on our inferior delivery devices.
Someday I expect to run across an old Chuck Berry interview, in which he bemoans the state of late-1950s recording and playback technology.