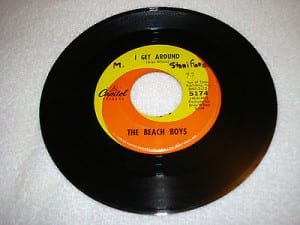 I grew up viscerally loving The Beach Boys: the big hits, like "I Get Around," "Don't Worry Baby," "Help Me Rhonda," even the overplayed (even circa 1975) "California Girls" (although the really early Chuck Berry ripoffs were of less interest to me). I was a little out of step in the mid-'70s for constantly lifting the needle on these records and playing them repeatedly. My young teenage peers were getting into '70s FM rock, like Led Zep, Skynyrd, Tull, and the Stones, man. (Not the Brian Jones Stones, which I loved, but the "It's Only Rock 'n Roll" Stones, which were better than most stuff the stoners were trying to turn me onto, but not always what excited me.) I was shut up in my room getting goosebumps over "Let Her Run Wild" and "Wouldn't it Be Nice." The only friend I had at the time who shared my profound love for these records was Andyr, the guy would would, just a few days ago, send me copious Facebook messages challenging my profound dismay over John Cusack's performance in Love & Mercy.
This trend of being an out-of-step pussy with my peers continued through high school, becoming even more of a challenge for me when the dudes started questioning my manhood for liking punk rock, the same dudes high-fiving with macho glee over Queen's "Fat-Bottomed Girls."
Then I got to college and, within days, met other kids who grew up being told they were a pussy for loving 45s from the golden age of the '60s and "fag" punk rock. Andyr reported similar discoveries at his college. Little pockets of kids with a love for concise, creative pop songs were forming across the country in the early '80s. We'd all read David Leaf's 1978 definitive lid-blowing account of The Beach Boys' myth, The Beach Boys and The California Myth. It went over all the things we loved about the band, and hipped us to the heartbreak and brotherly struggles beyond Pet Sounds. These friends we were meeting in a bigger pond agreed that "Girl Don't Tell Me" was a magical slice of under-appreciated '60s pop. If you could mouth the words "Girl Don't Tell Me" across a crowded frat basement to a cool-looking guy and if that guy could read lips and nod back at you, you knew you'd found a new friend. It was a magical time.
By the middle of the decade, another Beach Boys bio was released: Heroes and Villains: The True Story of The Beach Boys, by Steven Gaines (check out this prescient LA Times book review). My friends and I devoured this book, which was more salacious. At the time, that was fine by me, as I was hip-deep in my own salacious activities. I was happy to indulge in the romanticism of Brian Wilson dropping acid and hearing music in new ways, chasing the dream of creating pocket symphonies to god. What better way to justify the trip I was on, man!
By the latter half of the decade, all sorts of underground music scene participants were giving props to Pet Sounds and using mail order to track down elusive bootleg recordings of the scrapped Smile sessions. "Shit, man," one of us would say while "Caroline No" faded out and a trail of pot smoke left our lungs, "can you imagine how great Smile would have been?!?!"