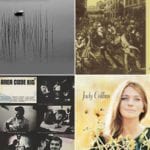 "20 albums Rolling Stone loved in the 1960's that you've never heard."
Who could resist this double-stuff'd headline challenging knowledge of 60's music while promising that any unknown album on the list is an obscure gem endorsed by a genuine Rolling Stone critic? The premise is win-win, but the reality? Leading off with a Judy Collins album containing her rendition of "Both Sides Now" is questionable – a top 5, gold-selling album doesn't beacon "unheard" status. Perhaps meant as a soft landing, the list then swerves through several variants of hippie rock, proto-art rock, anti-commercial parody rock, overly-twee and precious folk, or albums with musicians or producers whose other projects are more well-known. I jammed all these goodies into a playlist and dug in. The groovy pastoral vibes of Collins' sparkle-folk were countered by the absolute stink-eye from my wife until I sank in shame and clicked the player into unknown territory….
Out of these 20 albums, I felt that some deserved obscurity, others not. The sonic patchouli is overwhelming at times, and even some more dialed down selections made me wonder if I was in an elevator. I thought there were a few rockers and worthy contenders here. But what do YOU think? Do these albums belong on this list for being unheard? Do these albums deserve the love that RS bestowed upon them? Has Rolling Stone presented you with the revelation of the best album you'd never heard? What say you: treasures, or trash?