My First Band: Rock Town Hall's Talent(less) Search has hit The Main Stage! (Click song titles to play.)
With little, if any, prodding a dozen artists known within – and in some cases without – the Halls of Rock have submitted a total of 17 formative demo recordings as well as 1 painfully formative live track. The recordings were created from 1974 to as recently as 2008. Some are as tentative and misguided as could be expected. Some are downright impressive in their early articulation of their creator's vision. Most are in that awkward space between, where perhaps many musicians of any stripe spend the majority of their musical lives, edging closer to daylight but rarely forgetting how wrong it can go. Although some spirited jibes are likely and expected, this is not about how wrong it went but where our young contributors were headed. Let's hear it for our brave contributors!
With the assistance of RTH Labs, the demos have been loaded to stream from our customized RTH My First Demo Player™. To hear a track, click on the song title listed on the cassette case. A window will appear providing some details on the demo, but for the start of this event the artists' identities will be kept anonymous. The RTH Artist Scrabble Key graphic, on the following page, includes the identities of the artists when they recorded their tracks. In some cases the recordings were made by bands containing Townspeople or Friends of the Hall, in which case those band names are listed. Feel free to pin the artist names to each track. Eventually a key will be provided to associate the contributing Townspeople by their RTH handles. Artists are free to step forward with additional details or responses to comments whenever they feel like doing so.
Those of you who did not contribute an early demo but have experience making one are more than welcome to add your tales to the record.
Some possible topics for assessment and discussion are provided on the following page, but feel free to take this where it needs to go. So enough of my yapping, it's time to check out the nascent recordings of our dozen young artists and tell them how the music makes you feel, man!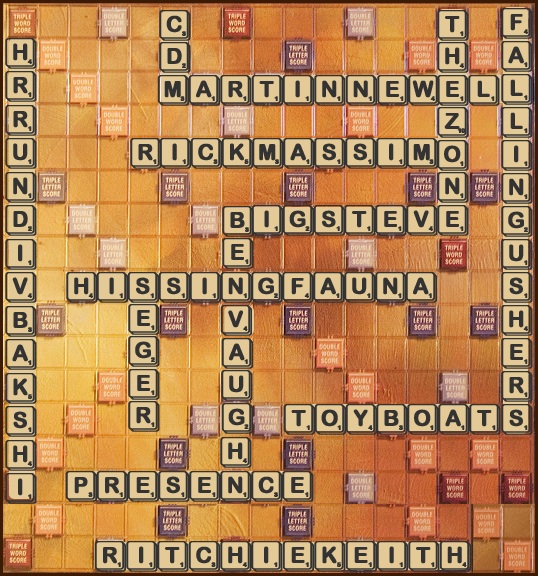 Surely we can consider some humorous assessment criteria for our contributing youngsters. For instance, which young artist sounds…
Most thrilled to be recording an actual demo
Most clearly wearing influences on sleeve
Most refreshingly innocent
In greatest anguish/existential torment
Trying hardest to sound like an old artist
Most concerned with sounding original
Most fueled by righteous rage
Most concerned with getting laid thanks to his/her music
Most likely to have recorded track wearing a beret/paisley shirt
Most likely to have a poster of Eddie Van Halen, Ted Nugent, or Jimi Hendrix on bedroom wall
Most likely to have recorded track while high
Clearly frustrated by lousy recording gear
Most in need of a fall-back plan
Most likely to… [complete phrase]
However, I can imagine there will be questions for any of the artists who have participated in this early demo show-and-tell. Maybe they'll answer, if asked. For instance, I'm curious to know what advice our grown-up contributors would give their younger selves.
Along with all the contributors to this fine, fun project thanks are due to Townsmen sammymaudlin, hrrundivbakshi, and The Back Office for their input on the planning and design of this very special episode of Rock Town Hall.