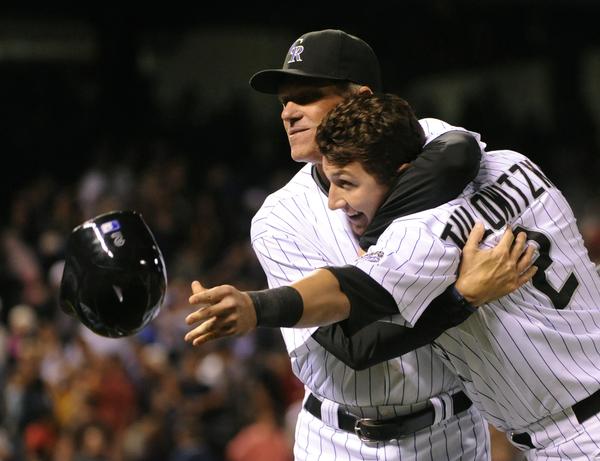 Dance the night away
I'm getting a late start on my series-by-series analyses of the walk-up music used by teams in the 2009 playoffs. My apologies to fans of the St. Louis Cardinals, the Boston Red Sox, and the Minnesota Twins for not being able to prepare you for your teams' getting swept out of their Division series battles owing to inferior playlists. Red Sox fans, however, must have had a clue once it was announce that Rocco Baldelli and one of the coolest playlists in baseball was being left off the team's postseason roster.
This evening the Philadelphia Phillies have a chance to eliminate the wildcard Colorado Rockies in frigid Colorado. The Phillies starting eight is not that different than last year's World F'in' Champions's lineup, so much of our focus will be on what noise the Rockies are bringing. We'll dig into the Phillies' playlist in more detail when – I'm sorry, make that if – the Phils continue to the NLCS.
Both skippers in this series, the Rockies' Jim Tracy and the Phils' Charlie Manuel, have made it clear that they're managing with all hands on deck. We've already seen Manuel use three starting pitchers out of the bullpen/off the bench in Game 2, and in last night's game, both Tracy and Manuel had their starters on a short leash. The walk-up music of the expanded, fluid bullpens will be key in this series, and the Rockies prepared for just this situation by acquiring former Dodgers' lefthanded situational reliever Joe Beimel prior to the trade deadline. We know what Beimel brought to last year's NLCS, and this year he's back with a new, hip walk-up tune.