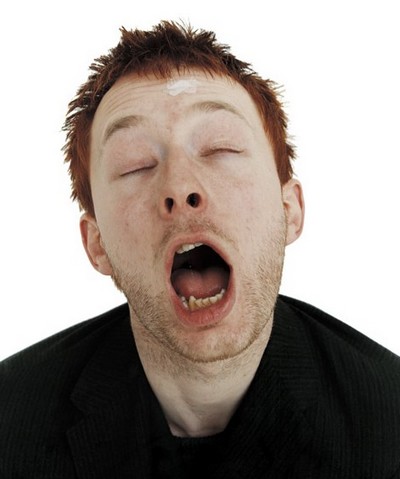 It's all too much
As we once asked regarding Michael Stipe, Is Radiohead's Thom Yorke an irritating dickhead, or what?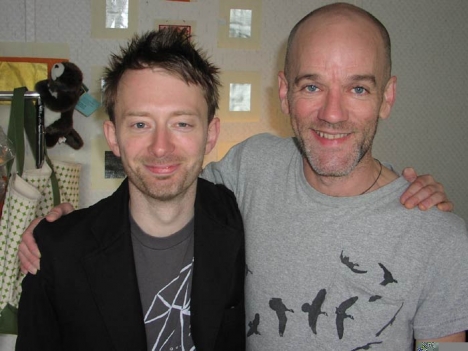 Friendly rivals, Yorke and Stipe, take time out from their Into It competition.
Any time I check out Radiohead, there are things I enjoy about their music, but it all centers around this guy.

He was front and center in the beginning, with that song "Creep", which I believe he's long dismissed. To his credit, he's the boy in the bubble for their biggest hit and this cool video. He's obviously involved in the band's music – it's not like he's just an annoying singer for hire. So I do see a few merits to this guy's participation in rock 'n roll.

But what's all this emotion about? What's with his vocal style? Does every syllable he utters really need to be sung as if he's holding his newborn while he – the father – is taking his last breath? How much more into it must he be? Did I miss the announcement that he was engaged in an Into It contest with Stipe and Bono?

As a fan of some singers who were known to get into it (eg, Joe Strummer), I understand how the singer's getting into it can help the audience get into it. But what's Yorke getting anyone into? Even Rufus Wainwright might find Yorke to be over the top.

Before you tell me about The Bends and before you think this is really about his cock-eye or the unnecessary "h" his first name, save it! I'll even give the guy for sitting down behind a mini-drum kit and bashing away while singing, all the while looking like Martin Short in Clifford. I simply want an explanation. Please explain Thom Yorke.

I look forward to your assistance.