I felt a little bad after calling bands "also-rans" last time I posted about pub rock, but in a way all of them were also-rans. It wasn't a big scene, and I think only Dr. Feelgood ever had actual hits. Pub rock evolved as an alternative to the arena rock culture of the early '70s, and it was a strange brew that bubbled under briefly before being swallowed up by punk rock, the appearance of which forced the pub rockers to evolve or die.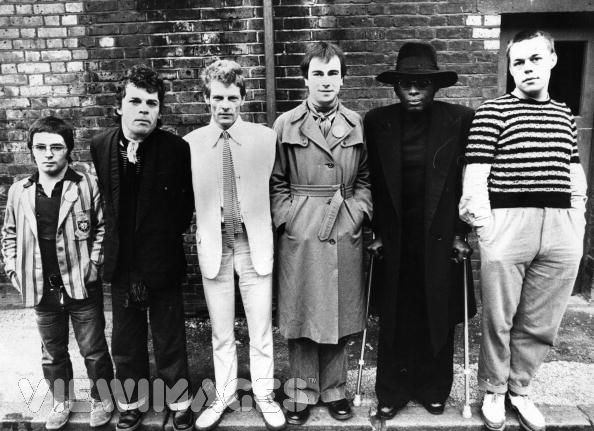 One of the more interesting cases was Ian Dury's first band Kilburn & the High Roads. Named after the main thoroughfare in Kilburn (ie, the ancient Kilburn High Road), an area of north London known at the time for having large Irish and black populations, the band was formed while Dury was still a lecturer at the Canterbury College of Art. Anyone who has looked into the history of British rock knows how influential the art colleges were in the '60s and '70s, and Dury had studied with the famous Peter Blake at the Royal College of Art. Most of the original members of the band had been students of Dury's, and they seemed more like a random collection of characters having a laugh than a group of professional musicians. Here you can see the early version of the band stumbling through "Mumble Rumble & the Cocktail Rock" on the Old Grey Whistle Test, in 1973.
dhFaSuRP1uE]
What I find most interesting about this band is that you can see and hear the elements that would go into Dury's success with the Blockheads, though the mix isn't quite there yet. In that clip you can notice his fascination with '50s rock. In fact the story goes that Dury was inspired to go into music by the death of Gene Vincent in late 1971. Notice that Dury wears black leather gloves in these clips as a tribute to Vincent.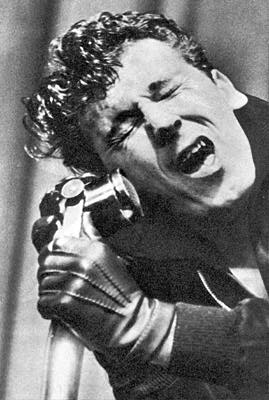 Vincent had a motorcycle accident as a young man, and the car crash that he was in while visiting the UK in 1960, the one that killed Eddie Cochran, further damaged his leg, so that he acquired a decided limp. This certainly must have been part of his appeal to Dury, who had had polio as a child and who suffered ill health all his adult life, but Vincent was a big deal in the England. He moved there in 1963, and in many ways he was a bigger influence on the British rockers of the '60s than Elvis. When Dury re-emerged with the Blockheads in 1977, one of his first singles was "Sweet Gene Vincent." Here he sings it at the Concert for Kampuchea with Mick Jones of the Clash guesting (in full Vincentian black leather):
AEio9VyOJVg]
Another aspect of Dury's once and future approach was Englishness. He sang with an emphatically Cockney accent, and he drew on the music hall as an influence. Here's a clip with Dury talking about the various touchstones that went into the song "England's Glory" followed by a truncated clip of Kilburn & the High Roads playing it on TV:
inSCOVk3CNo]
It's all very Village Green Preservation Society, but edgier. And you can hear that influence mixing with the '50s rock influence on this B-side to their first single.
Kilburn & the High Roads, "Billy Bentley (Promenades Himself in London)"
It takes the same approach – a list of various indecipherable Cockneyisms – and I think you can definitely imagine that song on a Blockheads album. Pub rock was mostly about British infatuation with American roots music, but despite the rockabilly influence, this music imported less from across the Atlantic than the other bands on the scene.
The A-side to that first single was "Rough Kids," which is definitely the band's greatest achievement. Here's a later version of the band playing it on TV:
nDEEB2gSJU0]
(Note the razor blade earring.) Even after shaking up the line-up to upgrade the musicianship, it's still a fairly shambolic performance. The single, on the other hand, was produced by Chris Thomas, and it's pretty sharp:
Kilburn & the High Roads, "Rough Kids"
It was supposedly this production that made Steve Jones and Paul Cook think Thomas was right for the Sex Pistols. Shockingly it was not his work on Dark Side of the Moon. Wreckless Eric would later cover the song on his debut album:
PwdySdG-dNU]
Kilburn & the High Roads opened for The Who on their UK Quadrophenia tour in 1974, the same year the "Rough Kids" single came out. Pete Townshend, former art school student and friend of Peter Blake, had supposedly seen the band in a club and invited them along. In 1977, Pete would record an album with Ronnie Lane called Rough Mix. And he would later include a song called "Rough Boys" as the lead-off track on his 1980 solo album, Empty Glass. I'm just saying….
Despite that brush with a wider audience and a good following on the pub rock circuit, things didn't work out for Kilburn & the High Roads. Some of it was typical music biz BS. The band got signed to a Warner Bros. subsidiary and recorded a whole album, which was scrapped when that label folded. The album had to be recorded again, and it finally came out as Handsome.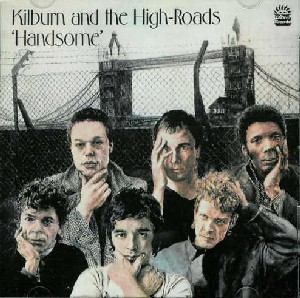 Not a bad album at all, and it's now available as a very expensive import CD with the "Rough Boys" single and other added tracks, but not only was the record-buying public at large not ready for this, Dury wasn't ready. His peculiar mix of influences had not quite gelled yet. In addition to the '50s rock and music hall, there's reggae and Caribbean influences sometimes. Some steel guitar. There's even a track that at first I thought was headed in a different direction towards an original sound:
Kilburn & the High Roads, "Broken Skin"
But then I realized that sound came from another contemporary band of art school exiles, Roxy Music, who proved to be better at rising above the touch of camp that seems to infect so much music and art in the early '70s.
The band went through various personnel changes, but when Dury had a bout of health problems and had to stop touring, doctor's orders, the group disbanded in 1975. Kilburn & the High Roads didn't quite have all the pieces of the puzzle in place yet, and they were destined to remain a footnote in rock history. As Townsman bobbybittman, I believe it was, suggested during our discussion of precursor bands last week, no reasonable listener would say he preferred this stuff to Dury's later work. But when Dury emerged on Stiff Records in 1977 the timing was right, he had a great band, and he hit it big by adding a bigger dose of jazz and funk to the mix. I recommend the two-disc compilation, Reasons To Be Cheerful (which includes "Rough Kids" and a couple of the better Handsome tracks), if you don't remember how great they were.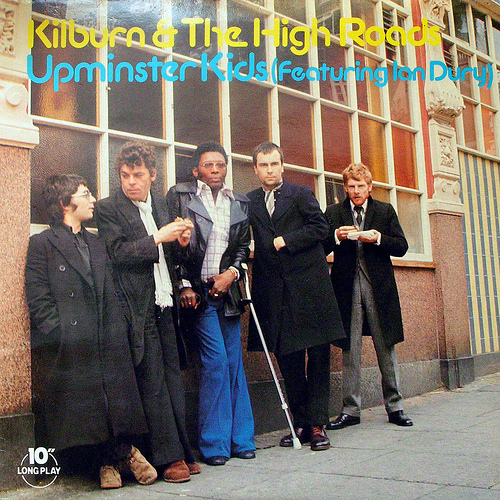 Ian Dury died of cancer 9 years ago this week.