I haven't written one of these in a while, but Mick Green of the Pirates died last month, and it inspired me to take a look at the strain of pub rock that was about the ROCK. As we saw in earlier installments of this series, pub rock started out as a sort of weedy Americana, leaning towards the countryish and folky. But as the scene evolved, the British strain of maximum R&B came to the fore, and pub crowd came to prefer a rowdier night out. So pub rock was part of the awakening of sleepy early '70s pop music, and it eventually came wide awake when it mutated into punk rock.
The roots of the Pirates go back to the early '60s. As Johnny Kidd & the Pirates they were one of the first credible British rock groups. Their big hit was "Shakin' All Over." I can't find a good YouTube of them playing it, so I'll post this awesome clip of a version by another iconic early British rocker, Morrissey favorite Vince Taylor:
hPxmPdDQtQA]
Many people covered this song, notably the Who on Live At Leeds. It's a great riff, but it's not originally Mick Green's. He joined the Pirates after it was recorded (in 1960 with Joe Moretti on lead) and left to join Billy J. Kramer & the Dakotas in 1964. Kidd died in a car accident in 1966.
As a side note, I'll just copy this story from Wikipedia:
The original recording was not a hit outside of Europe. Instead, "Shakin' All Over" gained fame in North America after Chad Allan and the Expressions covered it in 1965, where it was a #1 hit in Canada. Several months later, concerned that the effect of the British Invasion might eclipse the potential for success in the US by a Canadian act, the record label issued the song to radio stations in the States on a white label, with the artist listed as Guess Who? This became the first hit for the group in the states, reaching #22 and leading Chad Allen and the Expressions to change the group's name to Guess Who.
Here's the Guess Who's version:

qxuqUNKqj6E]
Mick Green reformed the Pirates in 1976 with Johnny Spence on bass and vocals and Frank Farley on drums, and they rode the pub rock bandwagon to great success. Here they are in their prime playing one of their signature songs, "Gibson Martin Fender." Note the rad Pirate outfits:
nG4TXUkGL9Y]
In later years Green played with Bryan Ferry and Van Morrison. Here he is upstaging David Gilmour in Paul McCartney's Run Devil Run band:
Td9wKqKlAv0]
And here's Green just a couple of years before he died casually tearing it up for a Finnish festival audience and looking like he's having a blast. R.I.P.
KNiLM1ccvVM]
Green was famous for his choppy Telecaster sound, playing rhythm and lead simultaneously. I know you're thinking where have I heard that before?
GPRP0gdS95A]
Dr. Feelgood actually formed before the Pirates re-emerged, and Wilko Johnson played without a pick, but his rhythm/lead Tele style seems to come right out of Mick Green's. There's not all that much video available of the original band, so check this out:
rViBFgjChH0]
The jerky body English and stripped down sound was a precursor of punk, but when Dr. Feelgood hit London in 1975 they took the pub rock scene by storm. Their album Down By the Jetty(1974) and Malpractice (1975) aren't highly recommendable, because they don't really capture the band's energy. In a recent MOJO feature Nick Lowe commented:
When the pub rock scene started going downhill, largely due to Dr Feelgood, who were so great they spawned many duff copyists, it was time to move on.
Wilko moved on in 1977, turning up briefly in the late version of Ian Dury's Blockheads after Chaz Jankel split. He still performs with his own band.
One of the inheritors of this tradition, and a band who brought it into the punk rock scene, was Eddie & the Hot Rods. They were originally another Dr. Feelgood-style R&B pub rock band, but see how they combine that with some NY Dolls glam and incipient skinny tie/power pop:
U-w462fG5dg]
When their Teenage Depression album came out, Americans took it as punk rock with no idea of the band's pub rock lineage, but it's more obvious in this clip:
MrtwmyVMfOM]
There's more echo and reverb than the Pirates or the Feelgood's would have ever used, so I guess they added something to that sound. This album cover was certainly designed to appeal to punk rockers: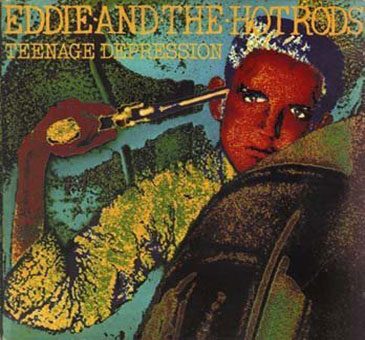 They were bandwagon jumpers, but so was Joe Strummer. Punk rock obliterated pub rock, but I don't know where British maximum R&B could be found today. Maybe it emigrated to American with bands like the Black Keys.
Next time we'll talk more about how pub rock also spawned Power Pop.