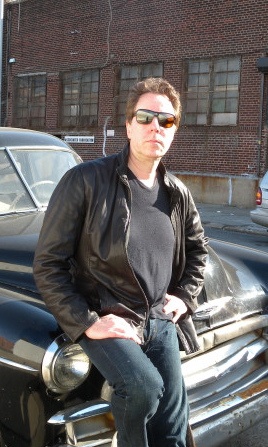 A giant in his own right.
Tonight, Friday, June 18, The Dictators' Andy Shernoff brings his When Giants Walked The Earth: A Musical Memoir show to the M Room, in Philadelphia (7:00 pm; ticket info here). This show, in which Shernoff recounts tales from his Queens-level perspective as a catalyst in the development of the New York punk scene, is so up the collective alley of Rock Town Hall that it hurts! We spoke to Andy briefly this morning, and he graciously agreed to answer some questions in the coming week. Meanwhile, if you're in the Philly area, see if you can't get yourself to the M Room to hear it from the horse's mouth.
I've got to say, just reading about Shernoff's career and imagining his experiences makes my head spin! He's one of those guys who, whenever I read his take the scene, confirms things I've long felt about The Power and Glory of Rock. Friday night's show promises to be a real cool time. What really hurts me even more than how right this show sounds is that I've got preexisting plans with a friend who is dependent on my not being present and on time. Unless I can somehow bend time, I will have to miss this show, but you should not! If you go, please let Andy know that he's in the presence of Townspeople. The man knows what we're up to around here when we should be taking care of business!
NYC-area Townspeople: Tomorrow night, June 19, you can catch this show at The Bowery Electric (8:00 pm).
New England Townspeople: I see that Andy's bringing his show to Providence, RI's AS220 next Friday, June 25.
One final link: a few months ago Andy appeared on Joe Belock's excellent WFMU show, Three Chord Monte. A real cool time was had that day too.