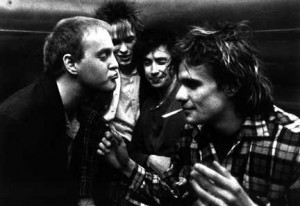 From Music News Today…
Paul Westerberg announces 'Mats reunion, tour and album.
After their last show in 1991, it seemed The Replacements had personal differences that could never be resolved. The issues began with power struggles between Paul Westerberg and the other band members, as well as the drug and alcohol problems which plagued the band, especially guitarist Bob Stinson, who tragically passed away in 1995.
Since their breakup, the band members have pursued solo careers in art and music and, most notably, Tommy Stinson has been associated with LA rockers, Guns'n'Roses.
This morning, via his publicist, Westerberg issued the following statement:
"Good morning music lovers!
I am very excited to announce that the boys of the Replacements have patched up our differences and are playing together once again. The band is sounding tight, Chris' drumming is better than ever, Tommy is a bass playing machine and our new guitarist, Reeves Gabrels adds a sophisticated technical flair that is taking the band to a whole new level.

We're going to be playing a 25 city tour this summer, so come on out to hear your old favorites and maybe a few covers too. We're also excited about our new songs, which sound like we never broke up. Reeves is writing a lot of songs for us and so is Tommy. Of course, I have some new tunes too and hearing the boys play them just feels like home. Tommy is learning to play the cello so that we can really play these tunes right and Chris is adding his magic by mixing in some crazy loops and sounds from his iPhone. Next week we're headed into the studio with David Foster, so you know this album is going to really be something special.

We're looking forward to playing for all of our friends and fans, so keep an eye on our website, we'll be posting tour dates soon.

Peace and Love,

Paul"