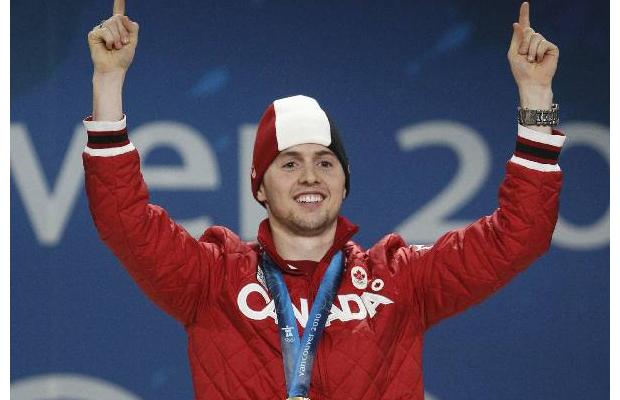 At Mr. Mod's request, Rock Town Hall's self-proclaimed Official Vancouver 2010 Winter Olympics Correspondent, NorthVanCoveMan, is on the scene, bringing you the rocking news from north of the border an attempting to fashion it into a rock-related discussion..with yet to be determined results.

Yesterday I had some dumb luck. As many of you may be aware, and some of you may be avoiding completely, the 2010 Winter Olympics are happening in my fair city. I have made a point of pushing aside any misgivings or general grumpiness and really trying to get out and enjoy the whole thing. It has not been hard to do; the town is electric right now! And there's alcohol!
Tonight is the first night I have nothing on tap (literally and figuratively) but I will be back in the swing of things Wednesday and Thursday with a trip to see some speed skating and hockey. The corporate pavilions, such as the ones set up by Molson and Heineken (50-75,000 sq. foot beer palaces) are at least as much of a draw.
But back to yesterday. A friend from back east who is in town for the games called with an extra ticket to the men's moguls event up on Cypress Mountain. Turns out, the first Olympic event I have ever attended would be the one to break Canada's gold medal drought on home soil (We were shut out in Calgary '88 and Montreal '76). Anyway, It is a really big deal up here. A virtual unknown, a young man from Quebec named Alexandre Bilodeau, took the gold. He seems to have been ordered from Central Casting under "Modest and Respectful Canadian Hero." They gave him the gold tonight in front of a football stadium full of people. Twenty thousand more were singing "Oh, Canada" outside.
Now I'll be the first to admit I don't give a shit about moguls. And like most Canadians I didn't know Bilodeau from Bordeaux at the beginning of this past weekend. But being there in the moment makes me feel different about it, I am drawn in. I'm hooked on the feeling.
Has a charismatic person or unexpected electric moment ever gotten you out of your comfort zone? Find yourself listening to reggae or jazz when you hate reggae and jazz? Who in music came out of nowhere and rocked your world and had you listening to stuff you normally wouldn't?
Who is your Rock and Roll Bilodeau?