At some point in the mid-70s, I believe, some stoned DJs and marketing types at a kickin' FM ROCK station came up with the bright idea to run a month-long promotion called ROCKtober. FM ROCK stations across the country picked up on this promotion. The details of ROCKtobers of my youth are hazy, but I remember things like featured artists of the day, culminating in a special concert broadcast from that day's stadium stalwart; maybe an A-Z Weekend for each of the month's weekends; and more Rock Blocks than we'd get the other 11 months of the year. To this day, although I don't listen to any stations that might still be running a ROCKtober promotion, not an October goes by without me making reference to ROCKtober!
Although we're a third of the way into the month January, we got the bright idea that it's high time Rock Town Hall takes the lead in promoting , a monthlong celebration of rock 'n roll jams! Each day we'll feature a rock 'n roll jam session that will try the patience of 3:30-and-out crowd. But that's cool. We know most of you can roll with the changes.
We'll need your help in selecting key jams! If you've got a jam to suggest, how 'bout writing me offlist, at the address that will follow the jump, at the end of this thread. We can make arrangements to load the track for you, because a classic rock jam will likely be too much digital information to load through standard Back Office means, if you know what I'm talkin' about. If you've never started a thread on The Main Stage, we'll talk about how it's done and see that you sponsor your rock jam for all it's worth!
Read on for more information and our first rock jam of JAMuary!

A quick Google search verified that we're by no means the first to come up with this stupid idea, but considering it's Day 1 of our belated JAMuary launch, I think we've got a better branded logo than our competitors and the potentional to make this something special, or at leas provide Townspeople with long downloads to fill up their 300 GB of iPod space!
How 'bout we get it on with our first jam of JAMuary?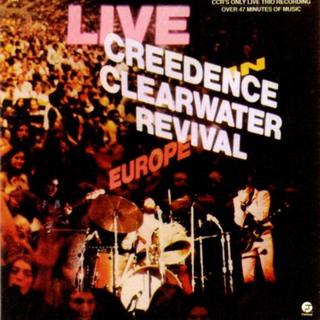 JAMuary, Day 1!
I'd like to ease into JAMuary with a jam the develops out of a simple boogie pattern. When a band's got a good boogie cookin', after a while, the beat kind of turns around. Gets my mojo workin'! Here's one of the first extended boogie jams I fell in love with as a boy, from Creedence Clearwater Revival's Live in Europe album.
Creedence Clearwater Revival, "Keep On Chooglin'"
Watch it! Those of you who are not used to being expressive in public may get caught up in the boogie.
To discuss sponsoring your own JAMuary piece, please use the Comments field or write me offlist:
headstache [AT] gmail [dot] com
If you've got RTH blogging privileges, feel free to start your post in The Back Office. We'll help you get the track loaded on the server.