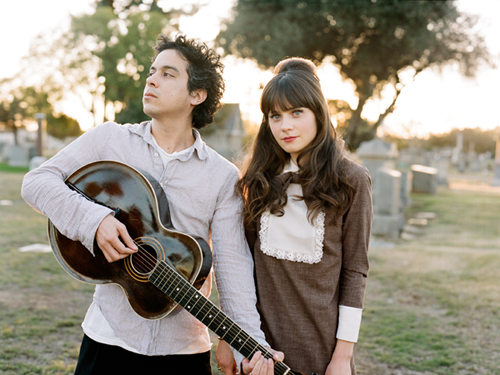 A lot of rock nerds go ga-ga over M. Ward. A friend burned me one of his albums and I've heard some other songs by him. His stuff's nice enough, but he's a little too low-key for my day-to-day tastes.
A lot of rock nerds probably go ga-ga over Zooey Deschanel as well, probably for reasons slightly beyond her smokey singing performance in the shower scene in Elf, but not altogether unrelated. She's cute!
If you haven't heard, M. Ward and Zooey Deschanel have teamed up for an album called Volume One, under the name She & Him. There's much being made about their love for '60s AM pop, Phil Spector, Carole King, Dusty Springfield, and so forth. I'm down with all that stuff myself, as down with all that as I am the cuteness of Ms. Deschanel, so I picked up this album.
I've just started listening to it, but so far so good. They even do a couple of dreamy/country Beatles covers, which will be good for passing around with my fellow Beatles fanboy friends. Deschanel's voice works for me, and Ward's work behind the scenes hits the right buttons. What I like best about this stuff, though, is when it gets into the West Coast AM pop sound. Check out these examples.
She & Him, "Sentimental Heart"
She & Him, "This Is Not a Test"
I hope there's a Volume Two, and I'd suggest they keep exploring that West Coast pop sound. If Cat Power doesn't beat her to the punch, I think Deschanel's got a chance become the next…