I had mixed feelings about pitting three songs up for Song of The Year instead of the usual two, but this was an unusually strong year in pop music. And when I say strong I'm referring to quantity and not quality. Yet, some would have thought that with the breakup of the Jonas Brothers (?) and the lead-ballooning of Lady GaGa's Artpop and Justin Timberlake's 20/20 Experience, the four horsemen of the Pop Is Dead Apocalypse would be riding up and down the aisles at this year's American Music Awards. No, we had respectable, albeit retro "hits" from Daft Punk's "Get Lucky" and "Treasure" by the beta version of the hardest working man in showbiz Bruno Mars. That's where the good news ends because for the most part the radio sliced and served more moronic dancy nonsense like Macklemore/Ryan Lewis' "Can't Hold Us", fey losers Passenger's "Let Her Go", and by the numbers collaborations from Pitbull.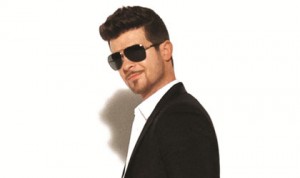 Yet, none of those songs could hold an iPhone lamp to the song of the summer (and NSFW video of the year) "Blurred Lines", which itself blurred the lines between tribute and theft of the Marvin Gaye song "Got To Give It Up". It was reported that the songwriters, fearing a lawsuit, lobbed a pre-emptive strike against any potential copyright issue coming from Marvin Gaye's estate. But as we all know good influence can be diluted, especially after being filtered through the soul of the son of that Canadian guy who played the dad on Growing Pains. In the right hands (Pharell should have taken the lead on this one) the song could have been decent. Unfortunately, Thicke handles the song with all the charisma of a pizza delivery man in a porn shoot.
Meanwhile, the trend of the smug acoustic back to earth music that started with Mumford & Sons continued unabated this year with the addition of The Lumineers and Civil Wars to the fold. Another trend that won't die is the positive affirmation anthem that started a couple years ago with GaGa's "Born This Way". Continuing this movement on radio and television in ubiquity were Katy Perry's "Roar" and Sara Barreille's "Brave". Yet there was room for another female voice of power, but no one knew it would come from an unassuming 17 year old from Australia.