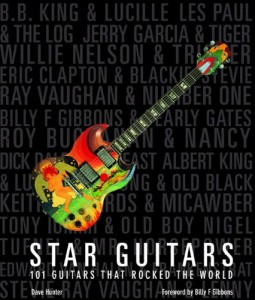 It's the day after Christmas. Whether you celebrated or not, I hope you had a marvelous day. In the true spirit of the holiday… sowhatchaget? What new music-related items have entered your household?
Santa brought me a new, sparkly red amp, a set of glasses decorated with images of cassette tapes, and an awesome book on legendary guitars, with a foreword by Billy F Gibbons.
HVB: What's with the middle initial in your boy's name? Has that been going on for some time, or is this how Billy distinguishes his literary side?