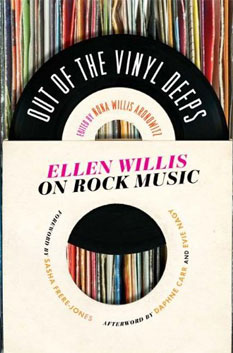 Feel free to use this thread to suggest your own summer rock reads. I'd like to tell you about my first completed rock read of the season.
About 2 months ago one of my favorite RTH lurkers wrote me offlist (as always) to recommend a collection of rock essays and reviews by Ellen Willis, Out of the Vinyl Deeps. He sent me a link to a Pitchfork article, which stuck in my mind. The writer, someone named Nitsuh Abebe, made some observations that I could relate to, such as:
It's also that she writes about shows, nights out, and conversations; about dancing in her apartment, talking over Bowie, and watching people throw paper at one another before a Who show. In one column, she deploys the following (weirdly thrilling) sentence: "The concert was fun." The overall effect is as if you'd spent these years abroad and out of touch, periodically receiving boxes of vinyl– and passionate, luminous letters about the music inside– from the friend you used to obsess over records with before you left.
And this:
Reading through these essays, though, I keep thinking she had something more valuable: the knowledge of precisely whom she's talking to, whom she's talking about, and what matters between them. The musicians, the audience, and the critic are all part of the same conversation. One way you can tell is that Willis uses the words "our" and "us" and "we" often and meaningfully.
(The Pitchfork piece, by the way, is more than a book review. I recommend checking it out.)
Surely notions like this are why my friend thought this book would appeal to me. I made a note to check this book out, and a few weeks ago, while strolling down Sunset Boulevard after my summit meeting with sammymaudlin, I stopped into a cool bookstore and realized I'd completely forgotten the title and author of the book but not the desire to buy it. I searched the shelves to no avail. I asked a couple of clerks, "I forget the author's name, but it was a woman who wrote a music column for a New York publication in the late-'60s and '70s."
"Lisa Robinson?" asked one excited clerk. She was in the right ballpark, but I knew it wasn't her. Then she had an idea, "I live next door to a music critic for one of the LA papers. Let me call him." She came back a minute later with the book in her hand. I had something to read my final hours over dinner at the Chateau Marmont and the LAX airport before my redeye back to Philadelphia!
Willis' name rang a bell before I started reading the book, and soon into reading the surprisingly good foreword by Sasha Frere-Jones, a writer whose own works occasionally make my skin crawl (probably because of her his musical interests more than anything else), I realized I knew Willis from chapters in the old Rolling Stone Illustrated Encyclopedia of Rock that was part of my rock nerd training as a teenager. She wrote a really good chapter on the then-terrifying Janis Joplin.
Among other things I learned in the foreword that Willis was not only a contemporary of one of my favorite writers from the early days of serious rock criticism, Robert Christgau, but had been his lover (I think that's what I read, in an overly egalitarian passage). Her essays typically are not as funny as the young Christgau's (I need to find my old copy of Any Old Way You Choose It and revisit that book's joys), but she shared a similar earnestness and intelligence. (She does crack one wicked joke regarding Mo Tucker's singing on "After Hours.") As the Pitchfork review pointed out, a sense of community and social consciousness were prominent in her rock writing, which she would pretty much leave behind for directly writing about social issues in the 1980s through the end of her life.
Willis' collected writings on rock 'n roll are not likely to cause wet dreams for young rock nerds. Maybe it's a result of those who curated her works, but her interests seem narrower than even my own: Dylan, the Stones, the Velvet Underground, and Janis seem to make up 4/5 the content. She's not prone to taking bold, outrageous stands; rather, she strikes me as an early rock critic who believed that the genre could age along with us. That appeals to me, but it lessens any "revolutionary" or "historic" appeal others might seek. The fact that she was the first or one of the first women rock critics is certainly revolutionary and historic in its own right, but as a guy that distinction makes me feel a little like Chuck D, when he denies that Elvis meant anything to him.
Willis' musical interests are so focused, in fact, that it takes about 15 Rolling Stones-based essays and 180 pages for her to mention Keith Richards. She's a serious Mick Jagger fan, attributing more Rock Super Powers to him than any critic would ever attribute to him in the post–Ja-Bo age. Another theme that fascinates me is her love for and belief in the importance of Bob Dylan's John Wesley Harding album, an album I've thought since buying it 25 years ago that I was alone in ranking among Dylan's greatest works. One of the great things about reading rock criticism from an age before your own is that you may get a glimpse into a forgotten set of pop culture values. Can an older Townsperson confirm whether JWH was actually considered a landmark album in its time, as Willis positions it in a dozen pieces? In her world, The Band and The Byrds' Sweetheart of the Rodeo are treated as mere outgrowths of Dylan's stunning comeback album. This is not a critical perspective I'm used to reading.
Part of what makes Willis' narrow focus interesting is how closely her dedication to a handful of artists and albums is tied to her own development through the years. The collection provides a vital portrait of the rock writer as a real person, a person who is growing and actually experiencing a life enhanced by her love for her record collection. Her daughter helped collect the pieces, and although her birth came near the end of Willis' rock writing career, you can sense that the author of these pieces has it in her to raise a kid. It's a nice change of pace from the Cries From His Mother's Basement or Everything You Had No Business Knowing vibe too easily gained from an immersion in any work or collection of rock criticism.
In a chapter in which she admits to Creedence Clearwater Revival surpassing the mighty Stones as her favorite group at the moment, Willis talks about her practice of dancing to records as part of her review process. I thought that was cool, and I really appreciated her daughter's inclusion of a photo of her doing this.