Well, our latest Mystery Date sure did have a deep voice, didn't he, like he was singing from beneath the sea? The song was "You Don't Have to Be a Baby to Cry," performed by Fred Neil, who is thought of by pipe-tamping music lovers as a "Bleeker Street folkie" and who most of us young rock nerds learned after the fact was actually the author of lauded songwriter Harry Nilsson's biggest hit record, "Everybody's Talkin'," the theme to Midnight Cowboy. This number is from a collection of sides he cut from 1957-1961.
I didn't learn until today that he was a Brill Building songwriter at this point, having written Roy Orbison's "Candy Man" among other songs for Orbison and Buddy Holly. Funny the stuff we learn along the way.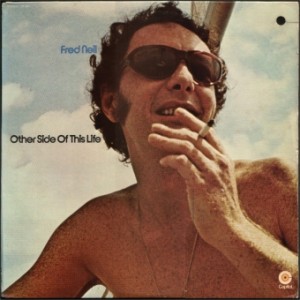 In my mid-20s, after learning a little bit about who Neil was, I would also forever associate him with one of the only Tim Buckley song I've been known to identify and enjoy, "Dolphins." That's one of those songs I believe a lof of Serious, Young, Genre-Spanning Artists have tackled. Here's Buckley performing it on English TV, which I can only hope will inspire our recently dormant friend Happiness Stan to chime in with a story relating this song to one of his old girlfriends. I'm also hopeful that the likes of the Hall's Deep Thinkers and Relative Folk-Bluesologists—dr john, mwall, dbuskirk, and even The Great 48 via his '60s folk-scene bred wife—step forth with some insights into this artist and suggestions for songs to investigate that are as interesting as the 2 I know.
Neil was serious about these dolphins. Sometime in the early '70s, the already reclusive Cleveland-born, St. Petersburg, FL-raised songwriter would turn his attention to preserving dolphins. The mind reels at what kind of music they made together?