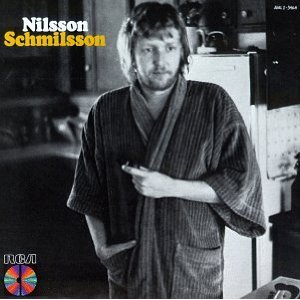 Ever read that book Alive, about the Uruguayans who crashed in the Andes and were so desperate for food that they resorted to cannibalism? I suffer like that once in a while as well. Sometimes I get so hungry for something new to listen to that I'll plop just about anything on the turntable, literally anything: The Damnation of Adam Blessing, The Beacon Street Union (Boston, by the way, is hands down the all time worst town for rock and roll), The Fort Mudge Memorial Dump, etc. It's been ages since I've unearthed a single gem. There's damn good reason why all those obscure psych bands never got anywhere. They blow. The world would be much better off if some kind soul would root out all that crap and bury it in a landfill. Too much precious time is wasted trying to find studs of corn in those turds.
About a week or so ago, I decided to call it quits with the whole psych thing to spend time with a bunch of records that did well on the charts but never made it to my turntable. Hence, my visit with Nilsson Schmilsson. Over the years, I've had the thing for sale at least 30 times. It always sells. I just assumed it had to be bad based on the fact that Nilsson was responsible for it. Simply put, Nilsson meant "dogshit." For years, I told myself I wasn't gonna get screwed by him again. I pissed away good money on his first two records based on the fact that John and Paul high fived the efforts. They were both yawners, filled with lots of neat sounds that didn't add up to anything.
That said, I loved and still love "One" and "Everybody's Talkin'." How can you not think those songs are absolute winners?
Probably because I was too tired to look for anything else as well as the two winners cited above, I decided to remove the Nilsson Schmilsson ultrafloppy RCA Dynaflex disc from its jacket and give it a spin. What follows is my take on the thing:
Side A
1) "Gotta Get Up": Sounds good, real good production wise. Producer Richard Perry and engineer Robin Geoffery Cable have great ears. That said, it's your typical Nilsson songwriting effort: nice melody but nowheresville in the lyric department. The band, which includes the extremely mediocre talents of Chris Spedding on guitar and Klaus Voorman on bass, turn in a clean Sam Ash–uninspired performance.
2) "Drving Along": Sounds good, real good production wise, even better than the first track. Has a very similar production sound to Bowie's Ken Scott Trident LPs. And whadaya know? I check out the credits. Voorman and Spedding are gone. It turns out that the record was recorded at Trident with Herbie Flowers handling bass chores on this track as well as a few of the others. As far as I'm concerned, Herbie's an unheralded genius. This guy's the wiz on Lou Reed's Transformer LP as well as the early Bowie releases. Herbie's contributions along with some shit hot guitar, courtesty of John Uribe, transform a pretty mediocre songwriting effort into something pretty wonderful. Again, it's Nilsson. Lyrically it's a whole lot of nothing, but the chemistry of Nilsson's pipes (the guy can really fucking sing, I've gotta give credit where credit is due), Herbie's fluid bass, and Uribe's chops serve up a track that would have fit in well on something like the better parts of Ram or Band on the Run, ie, decent McCartney stuff.
3) "Early in the Morning": Flowers and Uribe are gone. All you get is a soulful solo Nilsson accompanying himself on the organ. It's most probably something that Perry fought against. It's bad.
4) "The Moonbeam Song": Hallelujah! Flowers and Uribe return after smoking a TON of dope. Nilsson gives them another lyrical dud. Nevertheless, along with Perry and Cable, they manage to turn the thing into an atmospheric delight of sorts.
5) "Down": Flowers and Urbine take off once again to smoke some more dope. Spedding and Voorman return, and, hold onto your hat, bring along Bobby Keys. Yes, the same Bobby Keys who fucked up countless Stones tracks with his legendary party sax. What you get is something ala the reimagining of "Bye Bye Love" featured at the very end of Bob Fosse's All That Jazz: unlistenable sludge drenched in echo, which makes Keys' sax sound like amplified relentless farting filtered through a reverb unit hung in Indian Echo Caverns.
Side B
1) "Without You": Uribe's back but not Herbie. The dope is apparently very good. Simply put, a good track is not going to happen without Herbie. I'm odd man out here. A lot of people think this thing's great. I think it stinks. I'm not a fan of the power ballad. This may indeed be the world's very first power ballad, but I've definitely heard better.
2) "Coconut": Uribe is gone, but Herbie is back. Once again, Nilsson turns in another piece of garbage and Flowers and Perry turn it into another atmospheric novelty that still manages to amuse an audience.
3) "Let the Good Times Roll": One should never take an oldie but goodie, especially a New Orleans track, and try to give it a contemporary sound. Flowers and Uribe obviously knew this, which is why they left the session to smoke more pot. Perry knew it as well, but knew he'd be fighting a losing battle against Nilsson whose basic instincts were for the most part terrible. Perry probably threw his hands up at this point and decided to join Flowers and Uribe in the pot smoking activities, which obviously went on for a very long time.
When Nilsson assumes total control, you wind up with this kind of poop:
4) "Jump into the Fire": Flowers, Uribe, and Perry are back, and they're very, very, very high. All claim to know the meaning of life while tinkering on their instruments in search of new sounds. In the midst of all this, Nilsson hands them another piece of shit, and they once again manage to turn it into a dynamo of sound, something Roxy Music and Gang of Four might have conjured up if there was a meeting of the minds. Scorsese saw the brilliance of this thing and used it as a soundtrack for his helicopter "chase" scene in Goodfellas, probably one of the best "chase" scenes ever filmed. All Nilsson's godawful sins are forgiven because of his participation in this track.
5) "I'll Never Leave You": Uribe and Perry are spent from "Jump into the Fire." They head out the door to smoke pot. From out of nowhere arrives George Tipton, who worked on Nisson's first two LPs, which tells you everything you need to know about why the track is boring as hell. Perry again, has lost his tag-team partners. He throws in the towel to smoke pot with Flowers and Uribe, knowing that he had a hand in "Jump in the Fire" and someone at somepoint will recognize the magic of the track and put it to good use.
The Moderator still gives the Coen Brothers' Miller's Crossing a big thumbs up because he liked [Mod – make that "loved"] the 15-minute ending. I still don't think that makes a shred of sense, but I'm going to use that same justification for Nilsson Schmilsson. There's just enough meat on the bone to satisfy your appetite when you haven't had a proper meal in ages.
E. Pluribus