I haven't been around lately. Been busy. Doin' shit. So for those of you don't know, I am the Mikey from the Life Cereal campaign. Here's me then: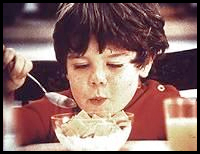 Here's me now: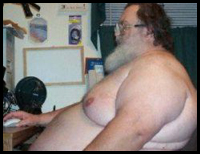 Anyhoo. I got that ad campaign because I'm supposed to be a cynic, right? I'm supposed to hate everything, right?! I swallow my anger, right?!! Wrong dillweeds!! Wrong.
I have the open mind of a newborn babe. That's why I work in my birthday suit.
So let's talk about The Big Bopper.
A cynic might say that The Big Bopper is the luckiest man in rock for if he hadn't died in that crash, no one would remember him.
A cynic might say that in the triumvirate of Chubby Checker–Fats Domino-Big Bopper, the Bopper comes up third no matter how you sort them: talent, fattest, most black…
I might suggest that we celebrate the fact that The Big Bopper wrote that White Lightening song and some song about a bear running that apparently deserve notoriety.
A cynic might respond, WTF are you talking about?
A cynic might say that the only people who truly celebrate The Day The Music Died are Don McLean and whoever inherited the royalties to Chantilly Lace.
But I'm not a cynic.
I'd like us all to imagine for a moment a world in which the Big Bopper didn't exist.
OK, let's see.
Well if he hadn't existed then Waylon Jennings might have died. Depending on your feelings about Jennings this could be some sort of It's A Wonderful Life way to celebrate the Bopper.
They'd have to find another song to fill the void where Chantilly Lace was used in American Graffiti. I don't recall the scene though and couldn't find it.
I personally wouldn't have the memory of my dad lifting both hands off the steering wheel and gesturing while singing "Well hellloooooo baaaabay" when Chantilly Lace came on the oldies station. I would have to be satisfied with only having the almost identical memory but with that "sing like a frog" song.
I, along with countless others (here, here, here…) see a world without music videos, because The Big Bopper is the visionary who created music video.
A cynic might point out the fact that pre-rock musicians produced and distributed "soundies", as early as 1940. But again I'm no cynic.
So in short, I think we can all agree that The Big Bopper was indeed a great…man.