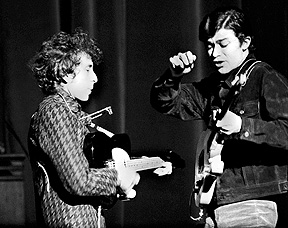 Are ya watchin' me, Bob?
A while back we analyzed the legendary duel in The Last Waltz between Eric Clapton and The Band's Robbie Robertson. Using cutting-edge technology and the better part of three lunch breaks, we compared the efficacy of Clapton's Guitar Solos to Robertson's Rock Faces. This groundbreaking study has led to similar inquiries in development and not yet reported, such as a comparison of the efficacy of Aretha Franklin's pipes to Mariah Carey's tits and ass from this legendary VH1 Divas performance.
While this and similar studies are ongoing, I've been thinking about the concept of the evolution of Rock Faces. How much of what an artist hits the stage with is owing to God-given talent and how much of an artist's facial means of communication is developed through hard work and study? I decided to kick off this inquiry with an examination of the evolution of the Rock Faces of The Band's Robbie Robertson. The conclusions we draw from this analysis are only the tip of the iceberg. In coming weeks, as we discuss these findings and examine the evolution of Rock Faces by other artists, we'll surely develop a more comprehensive picture.
As you know, many members of what would become The Band backed up Bob Dylan on some of his first electric tours. Here's a young, studious, respectful Robbie accompanying Dylan on acoustic guitar in a hotel room. In a wholly subservient role, Robbie's all about respect. The closest he gets to flashing anything remotely resembling a Rock Face, is around 56 seconds into the clip, when he engages in an empathetic head dip in rhythm with the descending chord progression.