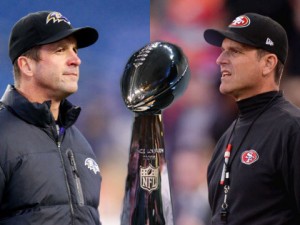 Next week's NFL Super Bowl game features a showdown between teams coached by brothers, John and Jim Harbaugh. This historic championship game between teams coached by brothers is probably a first in all professional sports—and likely the last in our lifetimes we'll see a pair of brothers square off as coaches in the biggest game at the highest level of their sport. Super Bowl XLVII has been dubbed the "Harbowl."
This got me thinking: Is there a rock 'n roll equivalent of the Harbaugh brothers: two siblings who have risen to the top of their profession in separate bands/solo careers?
Siblings who established themselves in the same band do not count, so don't give me Dave Davies' technically solo hit "Death of a Clown" in comparison with the Ray-led Kinks as a showdown of Harbaugh v Harbaugh implications. Thinks of what Mom and Dad Harbaugh must be going through. Do you think the Davies boys' parents ever chewed their fingernails over the creative dominance of one brother to the other?
Siblings who are the result of "Whoops, I didn't think we needed birth control at our age!" followed by a "Sorry kid, it's too late to join your older siblings' well-established group" father/band manager-talk don't count. Sorry Andy Gibb, Janet Jackson, and Marie Osmond. This must be a head-to-head match-up of siblings' musical achievements without one siblings' aid of supporting siblings. So for whatever reason some Nevilles are part of the "Brothers" and some aren't (and some of them may be cousins or offspring themselves, possibly answering a question on another recent thread), all Nevilles are off the board. It's got to be a Harbaugh v Harbaugh dynamic.
Rock 'n roll is littered with "also-ran" siblings, like Mike McGear (né McCartney) and Chris Jagger. Even a relatively accomplished sibling like Dee Dee Warwick, sister of Dionne, at the height of her chart success didn't match up as a "top dog" alongside her sister in the music world. Ron and Art Wood, for instance, do not pose a Harbaugh v Harbaugh dynamic.
Kid brother Neil Finn would leave his older and relatively accomplished brother Tim in the dust, but both brothers led bands with hit songs. Although the brothers had brief stints in each others' bands we won't hold that against them for purposes of this discussion. The other set of siblings that comes to mind and that may hold the initial lead in determining the Harbowl of Rock, are the following:
Is there a set of independently accomplished siblings in music who top the Cassidy boys, David and Sean?
I look forward to the shame I will feel when you point out some obvious Ann Landers-Dear Abby of Rock.