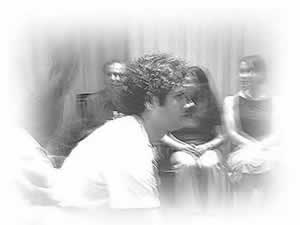 Velvet Intervention: Day 1
Over the years Rock Town Hall's preeminent hippie hater, Townsman Hrrundivbakshi, has made numerous threats to explain what it is that makes him incapable of appreciating the artistry of a couple of more Beat-indebted rock legends, Bob Dylan and The Velvet Underground. We've granted Hrrundi his hatred of The Jefferson Airplane, and we've given up on him ever fully explaining his overall dislike of hippies. After years of grilling, he's been man enough to occasionally come to terms with Dylan. However, to date we can recall no time when he has attempted to ellucidate his feelings on The Velvet Underground.
This week a gentleman and a scholar has agreed to air out his thoughts. He has requested we select 7 songs representing the scope of The Velvet Underground for his consideration and assessment. We will respect his request, in concept, but demand that he responds to a few more songs to accomodate for the band's scope. Considering that it's taken HVB a good half dozen years, dating back to Rock Town Hall's roots as a listserv, to come clean, we will allow him a few days to assess our selections. I think this is only fair to the man.
Today we will focus on the band's debut album, The Velvet Underground & Nico. I would suspect that most VU fans of my generation probably learned about the band in reverse order, from hearing Lou Reed's Rock 'n Roll Animal version of "Sweet Jane" to hearing the VU album version (without, I must add, the momentum-draining middle eighth that was cut back in on later digital reissues) and that song's radio-friendly mate, "Rock 'n Roll", before digging back to this mystical "banana" album. I'll leave it to our VU-digging Townspeople to share with Hrrundi what this album meant to each of you.
For me, a college freshman far from home and entering some new psychological territories, it meant that a lot of pent-up fear, anger, and desire was all right to be expressed. More than any of John Lennon's primal scream stuff, which may have been better on paper than on record, songs like "I'm Waiting for the Man" and "Heroin" allowed me to work out some serious self-doubt. I was already well aware that all I needed was love and told myself things were getting better all the time, but I had to touch ground first. I had no idea how I'd go about getting all the love that was promised or where it even was. The Velvet Underground provided a foundation consistent with the state I was in.
Musically, it meant there were new possibilities for expression that were only hinted at by all the '60s psychedelic and garage bands I'd been into since boyhood. The way the band played gave me hope that pounding out my own repetitive, innervisions was a valid way to make music. I never had time for "jazz chords" and reading music. Harmony groups like The Byrds did little for me. I wanted my ass kicked by the records and movies I was digging into at that time.
What was especially cool about the VU compared with the ass-kicking garage bands they often sounded like on the surface is that they were not retarded. As much as I love a song or two at a time of third-rate Rolling Stones, like The Chocolate Watchband or countless other Nuggets bands, I get tired of cars and chicks. I was a realist: the cars and chicks were never coming my way when I was 18. I had to look ahead and plot some more sophisticated, sensitive, and cynical course toward attaining cars and chicks, maybe by the time I reached my mid-20s. The lyrics of The Velvet Underground helped me prepare that course, and lord knows it worked wonders as I drive the love of my life and our two kids around in my 2003 Toyota Camry!
Without further ado, Hrrundi, your first mission is to listen to and comment on three representative selections from The Velvet Underground & Nico.
We look forward to your thoughts.