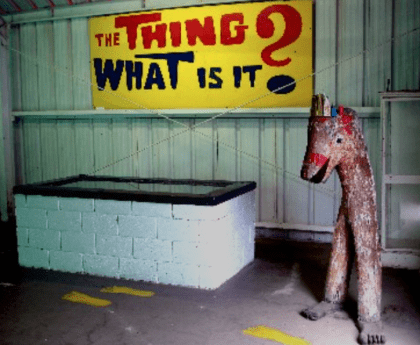 Greetings! I've always carried around a certain amount of guilt for having introduced the brainless fun and games that, in my view, contributed to the sickening of RTH (Mercury Version). So it's with no small amount of trepidation that I unleash my latest bit of tomfoolery on our nicely recuperating RTH. Despite my fear of derailing the healthy, thoughtful discourse that we seem to be enjoying, it seems to me that — in between dutifully foraging for fruits and berries, painstakingly poking termite mounds with broken twigs, and performing complex mating and dominance displays — us monkeys also need a few moments of scratching fleas, yawning, and nibbling on the crusty bits we pull off of each others' anuses. And it is in that spirit that I introduce my latest creation, entitled simply: What Is It?
In the game of "What Is It," your job is simple: I, the Quizmaster, will provide you with a list of names of things — bands, albums, tours, infamous behaviors, hair styles, quotable quotes, guitar nicknames, what have you. Some may be real; most will be fake. Your job is to tell us what you think the things are. Your answers don't have to agree with mine, and they don't have to correctly identify the "real" things in the list, if in fact there are any. Just answer, to the best of your ability, the question: What Is It?
Example — I say: Bow-legged Ida. You say: The name Jim Dandy gave the washboard he played in Black Oak Arkansas. Got it?
Here we go: