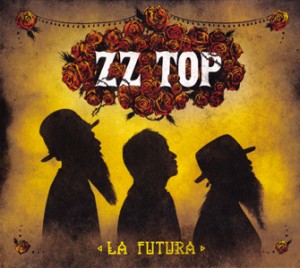 I get a lot of ribbing around these parts for my unabashed love of all things ZZ Top. Like every other right-thinking lover of music, though, in actual fact I categorically reject virtually every track the Zeez laid down between 1981 and… and… well, now.
But before we get to the howcum of my belief that ZZ Top's new album, La Futura is the band's best album since 1979's Deguello, let's pause for a moment to clamber into the rock and blues way-back machine. I'm going to pilot this thing back — way back, long before ZZ Top came into existence 43 years ago. Let's head back together to the 1920s, when ZZ Top heroes like Robert Johnson plied their musical trade in sleazy bars and whorehouses across the deep South. Most of these blues OGs packed serious heat, just to make sure they emerged from their latest gig with all their body parts intact. They played for gangsters, they played for hustlers, they played for pimps, bootleggers, and corrupt country preachers — and their music was suitably, dangerously literal. Some of this stuff was downright freaky, it was so violent (didn't we have a thread about "Stagger Lee" the other day?). No doubt, it celebrated the gangster lifestyle, but it wasn't bullshit. It was real.
Flash forward to 1973. ZZ Top released Tres Hombres — a celebration of beer drinking, hell raising, fucking, and, yes, redemption. I remember in college, me and my roommates (including a young Townsman Massimo) used to marvel at how terrifying the cast of characters on the inner record sleeve looked: it was a literal rogues' gallery of rednecks with shotguns, semi-autos, and pistols, leaning against battered pickup trucks and leering at the camera through bloodshot eyes. I mean, it was funny for us East coast college pukes, coasting through school on our parents' money, safely ensconced in our dorm rooms — these kinds of white trash crackers lived in somebody else's world… didn't they? Still, the fact that ZZ Top was writing music for and about them was vicariously thrilling, in the same way that gangsta rap would be for the generation of pampered white folk that would follow us into college a decade later.
So here's my point: much of this new album is violent and exciting in the same way that Tres Hombres was — and even (sort of) in the same way Robert Johnson's music was. Virtually every song is about dealing, or getting high, or toting a gun, or suffering the loneliness of the thug life. The album's opening track, "I Gotsta Get Paid," is a cover (of sorts) of an underground hip-hop anthem that chronicles a day in a dealer's life. Typically (if weirdly), the track "Big Shiny Nine," about a 9mm pistol, opens with the verse:
Big shiny nine, she's mine all mine
Showin' down the front of my old blue jeans
Big shiny nine she feel so fine
Waitin' to impress my hippie queen
[audio:https://www.rocktownhall.com/blogs/wp-content/uploads/2012/10/Big-Shiny-Nine.mp3|titles=Big Shiny Nine] [audio:https://www.rocktownhall.com/blogs/wp-content/uploads/2012/10/I-Gotsta-Get-Paid.mp3|titles=I Gotsta Get Paid]
… to which I say:  hey, Quentin Tarantino — two of your characters just wrote themselves. Love songs sing the praises of sleazy chicks who snort coke and smoke weed. In the album's more reflective moments, Billy wonders aloud whether it's even worth getting out of bed, or — in an inspired cover of Gillian Welch and David Rawlings' "It's Too Easy Mañana" — just how tempting it is to just sit around the house and get fucked up. It's inspiring, in a weird way; a singular vision of industry applied toward the hustle, freedom found in a fat bankroll and a cheap high; the love of guns and money.
[audio:https://www.rocktownhall.com/blogs/wp-content/uploads/2012/10/Its-Too-Easy.mp3|titles=It's Too Easy]
Of course, none of this would matter if the music didn't support the message. I mean, come on:  when was the last time sixty-something  Billy Gibbons, Board member of the Houston Museum of Modern Art, ever got caught in a ghetto cross-fire? But here's the miracle of the album: Billy and Rick Rubin didn't waste our time making a gloriously retro, all-analog, recorded-in-a-country-shack return to the boogie party ZZ Top of old. No, they put a bridle on the explosive power of the Zeez of the 2000s, led it into waist-deep mud, and recorded it struggling to break free. The songs are chock-full of high-art, tape-spliced cuts and jabs. Guitars fade and rise, appear and vanish in an instant, like the Marfa lights. Arrangements are twisted, jarring, often strange. Much of the album is slow, the guitars are distorted to the point of disintegration, the drums sound like they were recorded in a box canyon… and the bass. Holy shit, the bass will crush your damn skull. God bless you, Rick Rubin, for finally shining a spotlight on Dusty Hill. He's the miracle of this album.
So where are we at here, people? Well, look, the album isn't a masterpiece from one end to the other. It's got some moments where one's patience for blues scales gets a bit frayed. But that's true of all of the Zeez output. Even Tres Hombres has some needle-lifters. On the whole, though, this is the most focused, most relevant, most interesting, best written and best produced ZZ Top album in decades. I for one can't stop listening to it.
HVB
p.s.:  speaking of listening to it — do yourself a favor and make sure you listen to the samples I've provided through some decent speakers or headphones. They'll be necessary to really capture a lot of what makes this album so good.