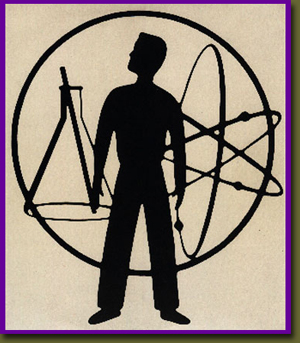 I'm stepping out from behind the door of The Back Office, this one time. And yeah, I know, "the computer guy likes Devo", ha ha ha. In my highschool there were freaks (outcast, tough kid, pot smokers), geeks (outcast, wimpy-smart kids), and jocks. I was a geek for sure (albeit a film-making, pot-smoking one.) We had an overlap outcast thing with the freaks and oddly our groups coupled more than once. When punk emerged, I felt a place for myself as both an outcast and a geek. And if you look at early Talking Heads, XTC, Modern Lovers, and others, the scene originally had a place for the outcast, arty, geeks.
But unlike Talking Heads, XTC, et al, Devo was more than a band. They were a satirical pop-art piece: aural, visual, conceptual. The whole is better than the sum of the parts. No argument. But that doesn't mean they didn't put out some cool tunes that stand up and more than perform their duty now for the future.

[As a disclaimer I need to mention that the atom bomb they dropped October 14, 1978 on Saturday Night Live changed my life. It is the single most important event in my musical journey. I was a 7th grade lad growing up in Phoenix in the days where if you weren't over 57, didn't play golf and drink something brown on the rocks you had little to do – movies, TV or listen to one of the two radio stations that played "Double Vision" incessantly.]
KA-BOOM!!!
The SNL version isn't on YouTube! (Fuck you, NBC, or whoever owns you this week) but it looked and sounded an awful lot like this:

"There's more than this!"
"There is weirdness!, Wonderfully, fun, wild weirdness!"
"There may be a place for me… somewhere."
Point is, I'm a bit biased. But Devo was THE gateway band for me. They directly led to Elvis Costello, Talking Heads, and other weird wildness. What a wonderful lifelong journey they so solidly launched.
And before we argue the merits of the tunes allow me to give you some Devo background that will tune your energy dome properly for the discussion.

Devo didn't suddenly appear on SNL in 1978. The concept of Devolution, or later "De-evolution" (in short that our society/culture is getting more and more stupid), was created to support a body of surrealist/satirical artworks by late-60s Kent State students Gerald Casale and Bob Lewis.
By 1973 they had morphed the art concept into a band. This is their first live appearance as The Sextet Devo at Kent State in 1973. As you can see, the interest in costume and imagery is involved from the get go. As is a rudimentary looking synthesizer. (Moog?)
In 1975, they shot a short film, The Truth About De-Evolution, which won the Ann Arbor Film Festival and the interest of Iggy and Bowie. The film was essentially the following two clips, tied together, with an intro and ending that aren't on YouTube.
This, and other, films were made pre-Eno/record label and have a rougher, darker, tenser, DIY quality than their later vids.
OK, this is probably the best point to get this out of the way. Sidebar: The Residents. I know you were thinking it. And yes, I might agree that Devo was a K-Mart Residents. But the flip of that coin might just as well be that Devo was The Residents with a beat that you can dance to, and all that that implies. And as much as I love The Residents (for many of the same reasons I love Devo) I don't think there is a single Residents album (maybe, maybe Tunes of Two Cities) that I could tolerate from beginning to end.
Case in point: Here's The Residents' cover of "Satisfaction" followed by an early Devo version. I'm not at all saying The Residents' version sucks. Au contraire; I love it but also find it nearly unlistenable.

In 1975, Devo were hired to open for Sun-Ra under the guise that they were a Bad Company cover band. If this isn't great art in and of itself… They were bombarded with beer bottles and physical threats. Here's how that gig ended. About halfway thru the mp3 you can hear someone start to unplug the instruments and then a funny verbal exchange.
During 1976, they toured with the Dead Boys and famously got into a fistfight with Cheetah Chrome while screaming "Are We Not Men? You're Not Men!" in his face.
From that tour…
OK. Cred established, so back to my personal timeline please. Thank you. OK so KaBoom, yadayadayada, I buy the first album and it changes my life. I won't spin stuff from that album here, because all Devo fans have it and all Devo dissers have heard it. I'll get back to discussing it, but let's move on.
After having a local Phoenix club tell my dad that "No, you can't bring your 14-year-old son here to see Devo," I wait until 1979. I bike down to Circle Records, bike back and am paralyzed by the seething satire and fuzzed-out grooves that came out of their much maligned, but fucking cool as hell second effort Duty Now for the Future. On the downside (in hindsight) there's too much synth but at the time Devo was at the vanguard of the synth-pop thing and it rang much cooler than it does now. But on the upside, I hear anger, an unrelenting tension and a sneer that I missed in the first overly crafted album.
"Devo is fueled by anger and frustration over The Captain and Tennille," Gerald Casale.
Work your way thru the synth heavy opening and enjoy…
This one has appropriate synth and a bitchin' minimalist solo that surprisingly starts to take off before we return to the slithering surreal portrait of an everyday idiot. Probably my favorite Devo song.
Or this one, that suddenly breaks in and out of the tension with a startlingly pretty "popcorny" synth melody.
"The Day My Baby Gave Me A Surprise"

And they can gun-it too.
After I got this disc, I almost never listened to the first one again. Not that I didn't like it. I did. I just liked this one loads better. These were mostly songs written at the same time as the first album but sadly, due to a rougher weirder production quality, this one was a commercial bomb. Talk of Devo being a one-off novelty band was the word. Warner Bros. explained to them about the economics of what makes money. This friction is displayed in one of their (not very good) films of the period where big corporate "Daddy Know-It-All" and agent "Rod Rooter" try to convince the spuds to put the yellow suits back on. (YouTube it, it's there.)
"40 shows later, we finally bend over and bed down with Bugs Bunny. Any stories we may have heard about the business quickly pale in the face of the byzantine horror of actual experience. Even though we fight the good fight, Devo's heretical question 'Are We Not Men?' is forever transmuted by the sublime irony of becoming part of the corporate feudal state," Gerald Casale.
All of this goes down just as MTV springs up.
And we get Freedom of Choice in 1980. This would be the last new Devo release that I could listen to. The production isn't as cold as Eno's but it isn't as weird and gritty as the previous release either. It is more pop, but I can still hear the sneer and the groove here and there.
Get past the Go-Go's opening and twist away those…
And the oft covered…
But that was it for me. I gave up after that. Until, I saw this in an experimental film class in college.
Woah! To this day, my favorite "music video" though I call it a "short film" in my head. Not only the visuals but man I didn't remember "Mongoloid" sounding that cool? There's that languid, fuzzy sneer that I dug so much on the second LP. Hmmmm. That riff, filtered thru the Dave Davies ripped speaker, sounds waaaaay cooler. To this day I rank it up there with and consider it in the same family as "Can't Explain" and "Do Ya". (I said the riff! Not the song.) Turns out, there was a version recorded before the first album was released. Now referred to as the Booji Boy version.
This brings me to the core of my argument: Brian Eno ruined Devo…musically. Commercially, wow, way to go Brian! He bleached the sound, made it more mechanical devo-id of soul. The soulless sound enhanced the overall concept, made it more obvious, novel, and hence profitable. OK, point made. De-evolution. I get it. Cool. HazMat suits. Cool. Don't get me wrong, I love the package and like that album because of the role it plays in their overall art…
But Eno dry-cleaned what I most appreciated musically and set the band on a road that was destined to be a cul-de-sac.
Here's back-to-back "Mongoloid": Booji Boy vs Eno:
"Mongoloid (Booji Boy)"

"Mongoloid (Eno)"

Check out some more pre-Eno stuff, from as far back as 1974. Not only groovier, grittier, but also weirder. Eno! You fuck!
So long story short. Are they the greatest band in the world? No. Are they better appreciated as an art piece than a 5 piece. Yes. Did they record some cool songs that stand up? Absolutely. Should they be respected as more than a novelty band? Absolutely. Are they better enjoyed with the sound turned up? Of course.
And why should you care? Well, for one, I'm certain this forum wouldn't exist today if I hadn't taken a dose of Devo.
Thank you for your attention.