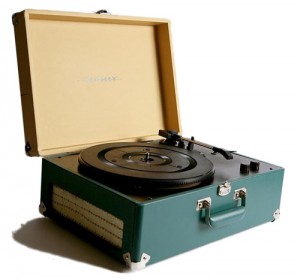 I succumbed to the lure of a photo. A friend posted a photo of the bright pink Crosley Portable Turntable (with built-in speakers) that was offered through his store, and I decided it was time to get off my duff, take the bull by the horns and all those other anti-procrastion messages, and get me and Mr. Royale a record player. I didn't order a pink one but instead, a respectable mellow blue one.
So yesterday morning, Mr. Royale opened the parcel and his eyes lit up. We both started to do the Hustle, the Madison, the Electric Slide, and the Pony around the room realizing the joys that were in store.
Today we gave our new little turntable a spin. We started with my K-Tel Super Bad album. Not only was it wondrous to listen to the crackles and pops of Isaac Hayes' "Theme From Shaft" but the nostalgia of the whole playing records process was overwhelming. Honestly, I haven't touched a record player in at least 15 years, so it was a surprise to me to remember that weight of the tone arm, the process of aligning the tracks, the dialing up and down of the volume knob. It's a hardcore drug.
Sure the sound is not the greatest: it's tinny and I could use much more volume. The records that I have here at home, which I toted from one end of the US to another, could use cleaning. But I'm already dreaming. I'm thinking of all my vinyl, still in storage at my parents' home just down the road from here. It's time to give a new listen to Live At Budokan, Fly Like An Eagle, Nursery Crimes, True Colors, Yes Songs, I Remember Tommy, and the assorted cut-outs that I picked up when I worked at a Scottsdale record store in the early '80s.
I'm already thinking of some better speakers, some good record cleaner, and which records I want to listen to next.
The thought of this brings me immense joy.