This weekend 2 Rock Town Hall Facebook page subscribers posted important content that I'll share here, for non-Facebook users, as the start of an All-Star Jam. This is a welcome use of our Facebook page. If you'd like to stay in touch through those means, by all means Like it, here.
First up is a call from Townsman Tvox for a Rock Town Hall Inquisition of Lenny Kravitz. Before reading the caption on this Moment of Douchebag post, I assumed it was rockdouche Dave Navarro. Were Townsmen Andyr and I alone in thinking Kravitz might turn out to be cool way back when, when he released his first album?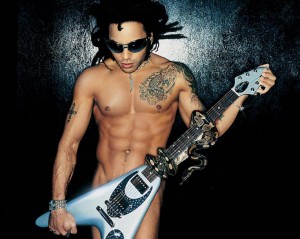 Next up is a link from Townsman cherguevara, to a little piece about a 92-minute collection of every recorded moment of the Grateful Dead tuning up through their 1977 tour. The Slate writer probably had us in mind in his conclusion:
Perhaps someone will do an academic study of these odd, interstitial moments, to add to the growing body of Grateful Dead scholarship.
Thanks for passing along these nuggets! Townspeople are encouraged to jam on their own rock chatter here and on our Facebook page.