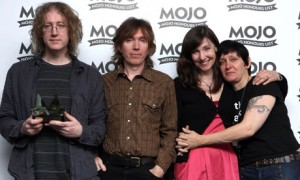 Honestly, what are the chances? I've been asking this question of My Bloody Valentine for some 22 years now. I love everything Kevin Shields has ever touched, but seriously, the man has a skewed sense of time. Brian Wilson comes off with a train conductor's punctuality compared to this.
Pitchfork has been claiming that MBV have the follow-up to Loveless in the can, and today they report that they have a video of a new song, and that Shields promises a new record "in two or three days."
http://pitchfork.com/news/49317-watch-my-bloody-valentine-play-new-song-kevin-shields-say-new-record-out-in-two-to-three-days/
The video has apparently been revoked already.
Realistically, folks, should we look for this on Tuesday? Don't break my heart again.