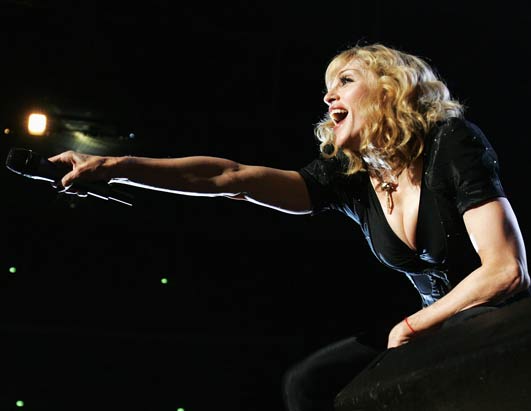 They've got Madonna
We don't want to overlook the significance of tonight's competing celebration of lifetime achievements in rock, the Rock and Roll Hall of Fame and Museum's induction of Madonna, Leonard Cohen, Gamble and Huff, Dave Clark 5, and Little Walter into its sacred halls. Months ago, we contacted an old friend, who's long been the curator of the Hall in Cleveland for a behind-the-scenes look at this museum. Our friend is a humble, self-effacing man who was very busy back then and continues to be very busy today. To our mutual regret, he was unable to find the time to answer our questions in time for tonight's ceremony, but there's no reason why the questions should go to waste. As a tribute to the Rock and Roll Hall of Fame and Museum, I will invite our very own Townspeople to answer these questions in our friend's stead. Perhaps when our friend has the time, he'll jump in and provide his own answers.
Let's get to the questions!

RTH: How do you acquire pieces for the Hall? Are there key criteria you follow? Roughly, how much of the collection is pieces you seek out vs pieces that are offered?
RTH: Is there an acquisition that most excited you? Did you get to touch it?
RTH: Is there an acquisiton that's most disturbed you, that you feared handling (eg, Ozzy's headless pigeon skeleton, Keith Richards' headband)?
RTH: Is there an item or items you'd most like to acquire but have been unable to do so to date? What's the hold up?
RTH: I assume bands and managers try to offer up their "pieces of history" – do you recall any that were pathetically far from historic? Feel free to name names.
RTH: Have you ever dropped and broken something headed for the collection? Did anyone notice the cracks when you glued it back together?
RTH: Thinking of Pete Rose, Shoeless Joe Jackson, and their gambling scandels, is there anything a musician could do to get banned from consideration for the Hall of Fame?
RTH: Does the Hall of Fame recognize and assess Rock Crimes committed during an nominee's career (eg, the Ja-Bo collaboration on "Dancing in the Streets")?
RTH: During your lunch breaks, do you and your colleagues argue over who should or shouldn't be in the Hall, or do you just talk about American Idol, like most other people in work do at lunch these days?
RTH: If a power trio were being formed with Ginger Baker on drums and the Rock and Roll Hall of Fame and Experience Music Project Museum duking it out for the lead guitar spot, who would play lead and who would have to settle for bass?
RTH: Have you ever had the opportunity to thank Clive Davis or Jan Wenner for anything?
RTH: What's the real story behind Dean Clean's drum sticks getting yanked out of its display case at the Hall? Did the guy cross you a final time or something?