Longtime Townspeople will know of my fascination with the video for The Jam's "Absolute Beginners." First of all, it's one of the last Jam songs that I love unequivocably. More importantly, though, I've always sense a lot of meaning in the all-out running scenes. What does it all mean, man? Let's try to figure it out.
Fig. 1
The members of The Jam are back to back (Fig. 1), as if they're about to mark off 10 paces for a 3-way duel and…they're off a mere 9 seconds into the song! I've frozen the frame right at that 00:09 mark (Fig. 2); you'll see that undisputed bandleader Paul Weller is hunched over and lunging out of the blocks. Is he desparate reach the finish line with this band, or is he desparate to prove once and for all that he's top dog in this fading outfit?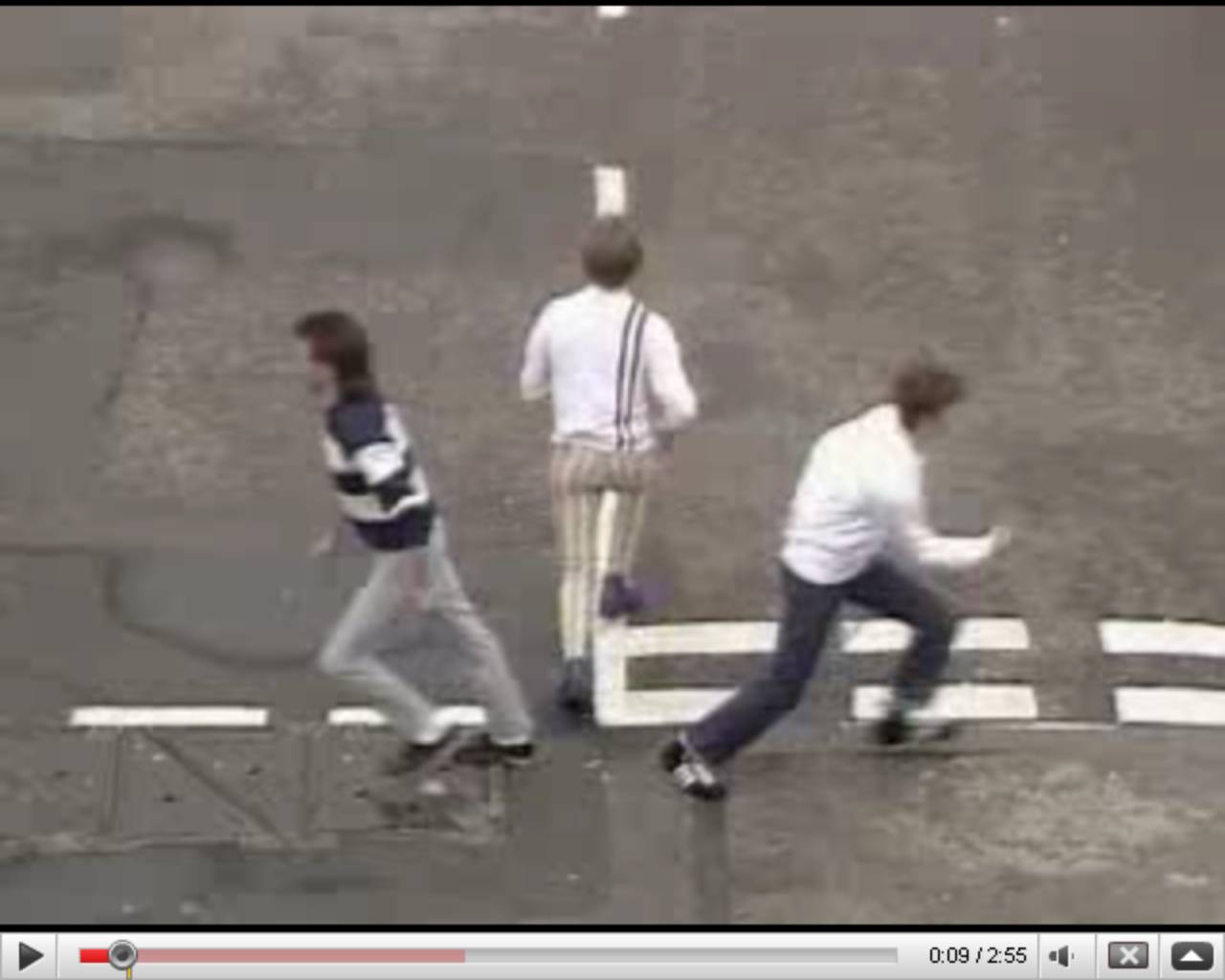 Fig. 2
Bassist Bruce Foxton and drummer Rick Buckler leave the blocks with more poise and confidence, but exactly 1 second later (Fig. 3) the video cuts to an arial view in which Foxton and an even more awkwardly lunging Weller suddenly have two steps on Buckler, who seems to be running to stand still. I read this frame as a clear knock on Buckler and, perhaps, all drummers.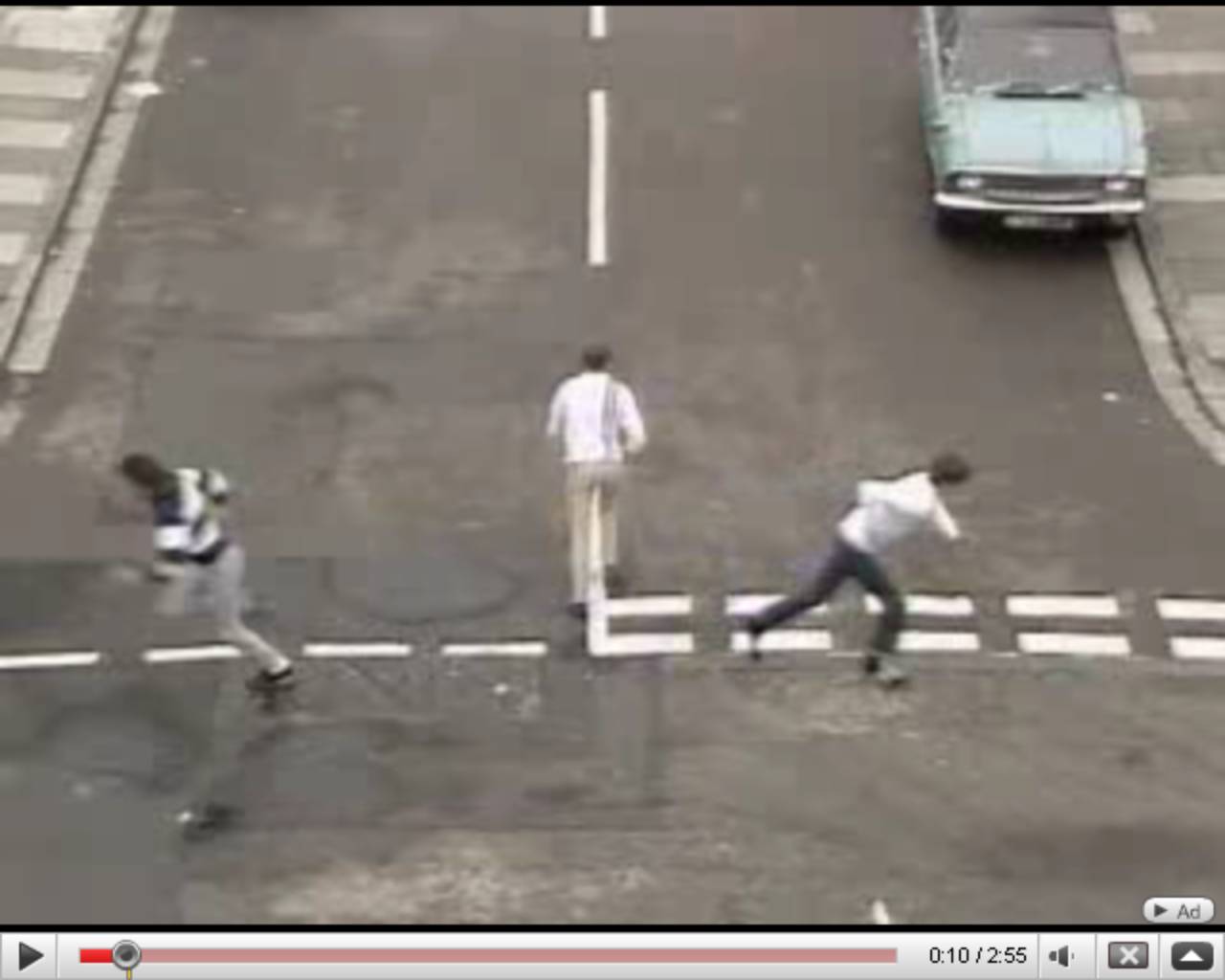 Fig. 3
Two seconds into this unfair advantage, Buckler leaps out to the lead, leaving the left side of the frame altogether while Weller huffs to the right and Buckler keeps to his starter's rhythm. Then we get our first solo shots of the boys in action. I've arranged them in split screen for ease of comparison (Fig. 4).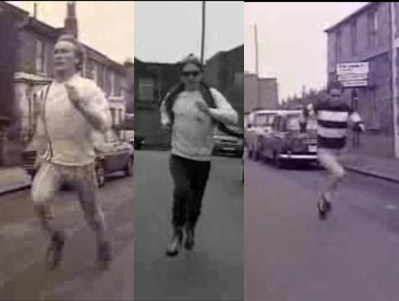 Fig. 4
Buckler is an animal, a model of efficient movement, all furiously pumping arms and legs! It's no wonder the guy excelled on driving 4-on-the-floor beats. There's no swing or freelancing in this guy's gait. Foxton is lithe and efficient. He'll do well in the open field, probably being the most adept among the band members at dashing out of the way of an unexpected bicycle or fruit stand. Weller looks bad. His form is wobbly, at best. He seems to be favoring one side, perhaps having stumbled while out shopping before the shoot? At some point in the race he's acquired a scarf. Why?
At 28 seconds, the lads have somehow reached a point in the race where they're all on the same street, headed in the same direction. Running ahead of his bandmates, Buckler is clearly the stud of the field. Then a winded Weller (Fig. 5), whistle dangling from his neck and rhythm section relaxing behind him, calls Time! and gets the boys back to the studio, where he can reclaim the lead in this race.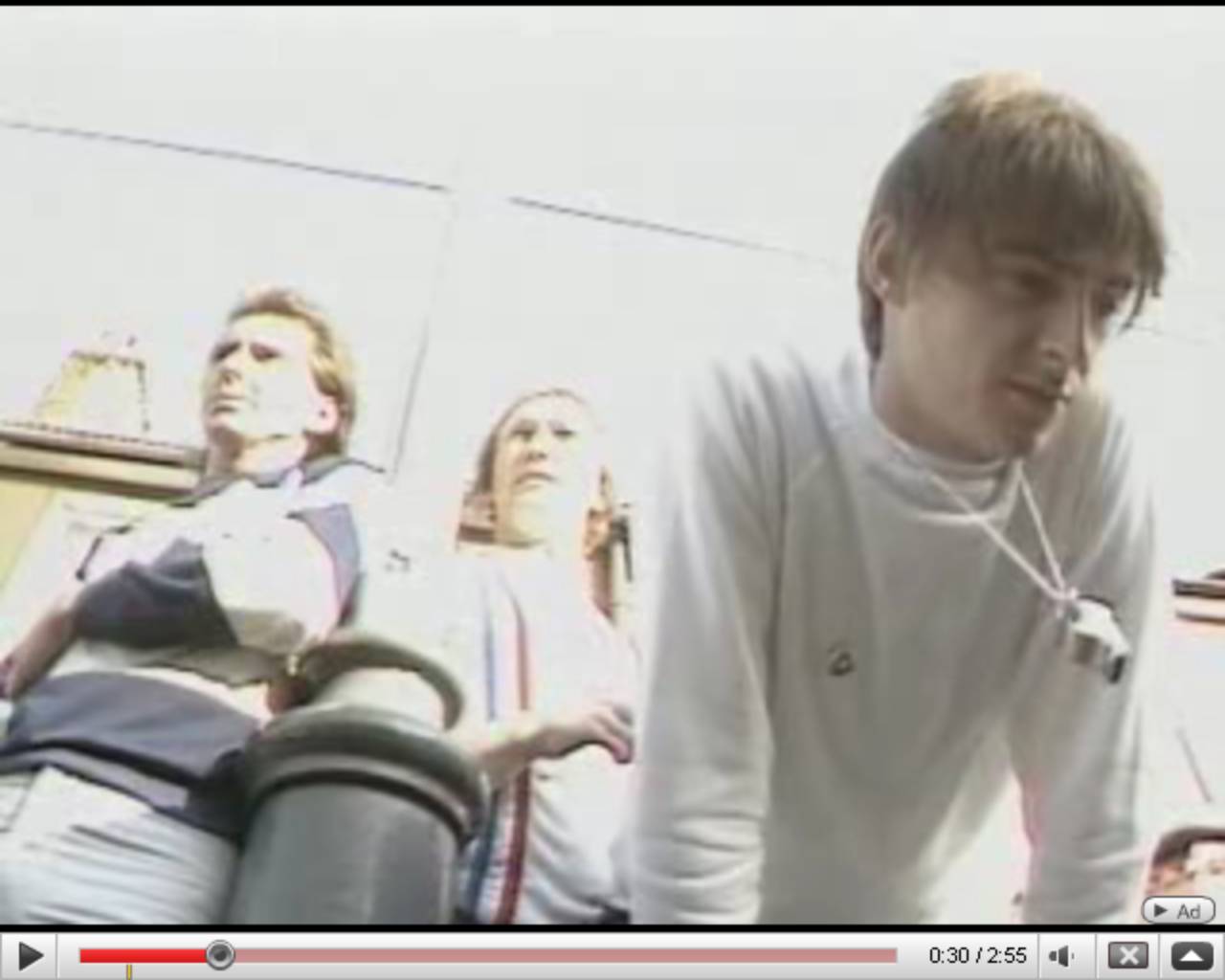 Fig. 5
Now Weller's got his fire back. Foxton looks just as ready for rockin' as he did for runnin', but check out Buckler: he looks a little frustrated to be tied to his throne, once more following the lead of the uncoordinated Weller. With a trademark snare roll he convinces his bandmates to finish the race, even orchestrating a neck-and-neck-and-neck heat, with Paul featured in the middle (Fig. 6). That's taking one for the team, baby! Think about this image next time you're about to cut on a drummer. When we next see Buckler running solo his hair is billowing and he projects a manly confidence and visage not unlike that of the late Heath Ledger.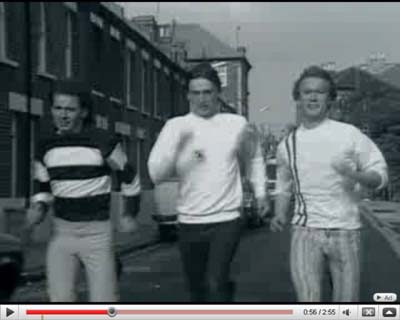 Fig. 6
The band is playing better than ever. Foxton is matching Weller phrase for phrase, snarl for snarl. Buckler is sitting high in the saddle. At the 2:07 mark, Buckler's seen blowing the whistle (Fig. 7). Then, for the second time, Foxton is shown in front of a clock. Is this marking the end of the band? Now each band member is shown next to the clock…and it's back to the race!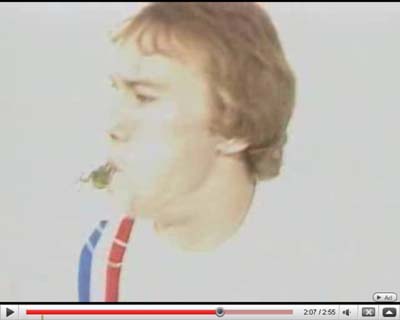 Fig. 7
As we cut back to the race Foxton has taken the lead followed by Buckler and a struggling Weller. The video cuts back to an angry Buckler, who reaches back and smashes the clock with his drum stick (Fig. 8). "I had this race in the bag!" he must be thinking, "Damn, why'd I have to let them catch up?"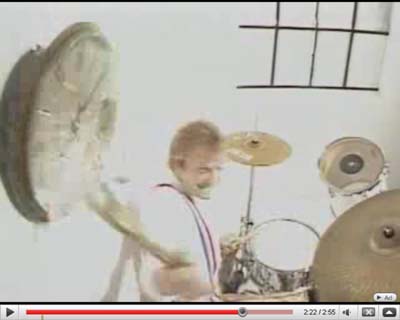 Fig. 8
NEXT: The singer always gets the girl!