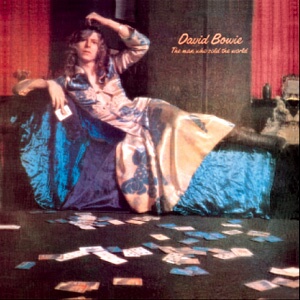 OK. It's a salacious headline and the fact is I like a lot of Bowie. Mrs. Maudlin is a huge fan, and over the years I've really come to appreciate his music. I share his influences, I dig his theater, I love his collaborators…
What bugs me about Bowie is his, perhaps unconscious, need for balls. His need for balls. Not his lack of balls. I've got no beef with his lack of balls.
Exhibit A. He got his nom de rock from another effeminate man who's need for man-junk led him to carry around his own ten and one-half inches long and two inches wide knife.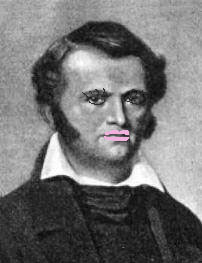 Although I've never read anything about Jim Bowie using his blade to castrate anyone, I have my suspicions.
Bowie's idols, largely had large balls: Them, Yardbirds, The Who, The Stooges… Even Marc Bolan, could rock hard and certainly packed some big clackers.
He made some good moves early on to fulfill his need for cullions. He purchased a pair. This is Mick Ronson's band before he joined Bowie.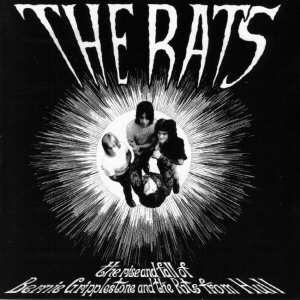 A zoom in on Ronson reveals an impressive set of swinging steak and bull fries.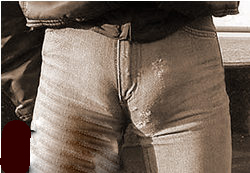 Then David Bowie, unable to contain his jealously, attempts to chomp it off.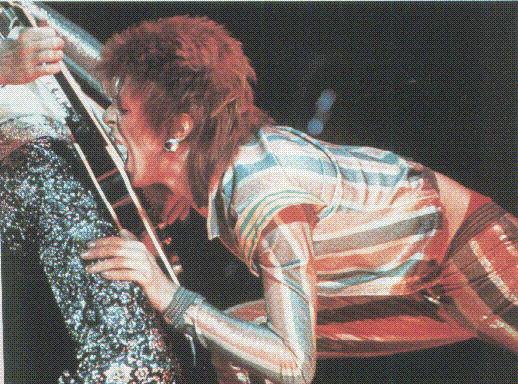 And we're left with this.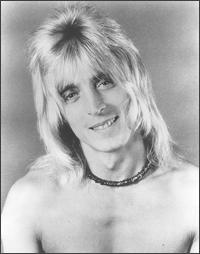 Which is actually more than fine. Bowie did his cool-thing, and Ronson brought stones. As a listener, I don't think Bowie really needed stones of his own but if he had to compensate, Ronson was a great way to go.
But this wasn't enough for a lad insane (over his lack of balls). Realizing that Ronson's marbles were always going to be hanging off Ronson, Bowie apparently made the decision to castrate his idols.
Reed before Bowie. Leather clad NY street tough: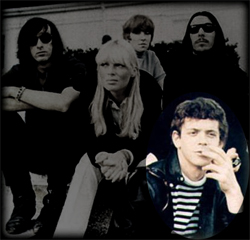 After Bowie: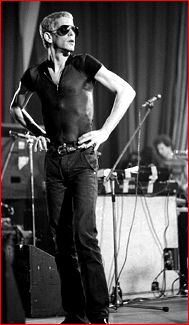 The glam look was cool and totally worked for Bowie, Roxy Music, T-Rex… But there are some folks for whom it just didn't: Lou.
Look aside, worse yet was when Bowie took his blade to the music. The only saving grace on Transformer is the presence of Ronson's jock strap. If Bowie hadn't brought along his set of Ronson Rocks, Transformer could have been as cockless as Raw Power.
Raw "Power"? Well, this has been debated to death but I think we could all agree that if the previous Stooges albums had 20 lb prairie oysters, then Raw Power had only a clam shell.
I'm running out of metaphors for testicles so I'll wrap this up with the YouTube video that brought this all to the fore of my mind. The only song on Lust For Life credited soley to Pop is "Sixteen". Here it is as produced by the Thin White Castrator:
And here it is, as I've never heard it before, with a package the size of Detroit.
Check out the beefy Steppenwolf-esque bass maneuvers, and the fucking drummer is smoking a cigar!
Bowie has long since dropped trou and proudly displayed his Barbie-doll-smooth crotch to the world. And both he and the world are better for it. I just wish he'd kept his Bowie Knife well enough away from his idols.